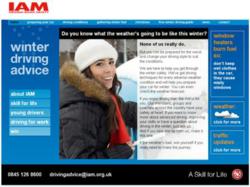 When the weather's bad motorists should always question whether they need to go out at all.
(PRWEB UK) 14 October 2011
Road safety charity the IAM (Institute of Advanced Motorists) launched a new website today, drivingadvice.org.uk, to help motorists prepare their cars and drive them safely this winter. The site also contains traffic updates and weather forecasts.
Tips include rain, snow, ice, fog and wind. Everything you can expect in a typically unpredictable British winter.
Winters' more treacherous driving conditions cause an increase in accident rates:

The rate of accidents amongst car users is 9.4 per cent higher in winter months (November-February) than the normal monthly average[i]
Slippery roads contributed to 20,003 road casualties in 2010, and related to 118 fatalities
Vision impaired by rain, sleet, snow, or fog contributed to 2,328 accidents in 2010, resulting in 3,318 casualties and 20 fatalities
IAM spokesperson Caroline Holmes said: "The number of serious crashes on Britain's roads is reducing and we want to see that trend continue. When the weather's bad motorists should always question whether they need to go out at all. Our website will help drivers make the right decision, prepare for winter and enjoy their driving, but do it safely."
ENDS
Notes to editors:
1. Source: Department for Transport statistical release 'Reported Road Casualties in Great Britain' Tables RAS50001, RAS50005, RAS30020 (2010).
2. drivingadvice.org.uk
3. Screenshots of the site are available from the IAM press office
4. Caroline is the IAM's spokesperson for younger drivers
5. The IAM is the UK's largest independent road safety charity, dedicated to improving standards and safety in driving, motorcycling and cycling. The commercial division of the IAM operates through its occupational driver training company IAM Drive & Survive. The IAM has more than 200 local volunteer groups and over 100,000 members in the UK and Ireland. It is best known for the advanced driving test and the advanced driving, motorcycling and cycling courses. Its policy and research division offers advice and expertise on road safety.
ENDS ALL
Media contacts:
IAM Press Office – 020 8996 9777
press(dot)office(at)iam(dot)org(dot)uk
ISDN broadcast lines available
iam.org.uk
###