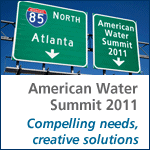 Expert understanding is key, and we want our attendees to rediscover the sense of security and confidence that comes from a full knowledge of the facts.
Oxford, UK (PRWEB) October 17, 2011
Hosted by American Water Intelligence (AWI) & Global Water Intelligence (GWI)*, the Summit will gather water leaders and technology experts from both public and private sectors to brainstorm creative ideas to tackle the major water difficulties now facing America. It will be held on 9/10th November, 2011 at the Atlanta Airport Marriott Gateway, Atlanta, Georgia, USA.
The agenda for AWI/GWI's conference, entitled 'Compelling needs, creative solutions', is responding to the continuing drought conditions across the USA, where in the south they have now become the worst in recorded history. And as the financial cut-backs in the US continue, the summit's agenda sharpens its focus.
"Since we started planning our American Water Summit for Atlanta," says Emma Welsh, GWI's Sales & Marketing Director, "the 'compelling needs' of the event's title have assumed a nightmarish significance.
We have added two new sessions - 'Surviving Financial Meltdown' and 'Inland Desalination and Scarcity Solutions' - to cover these issues. Expert understanding is key, and we want our attendees to rediscover the sense of security and confidence that comes from a full knowledge of the facts. We want to help them formulate a strategy, and this is where the 'creative solutions' come in – from the new technologies in our Water Investment Idol session and the new financing solutions in 'Breaking the Mold on Infrastructure Finance.'"
The Summit's Keynote sessions are:
Drought in Georgia is threatening agricultural production, power supplies, environmental quality and utility operations. Allen Barnes, Director of Georgia's Environmental Protection Division, speaks out on what America can learn about its water future from Georgia.
With municipal finance fast becoming the most pressing issue in the US water sector today Wall Street analyst, Meredith Whitney, explains why she expects the financial crisis to push the municipal market to default.
Atlanta-based Coca-Cola's Jeff Seabright outlines how water has become one of their most significant long term business risks and why there is no alternative but to make water sustainability a corporate objective.
Other top speakers include:
John S. Young, State Appointed Receiver of the Jefferson County Alabama Environmental Services Department
Justice (Ret.) Robert G Flanders Jr, State Appointed Receiver for Central Falls, RI.
Jorge Arroyo, Director of Special Projects, Texas Water Development Board
Jo Ann Macrina, Commissioner, Atlanta Department of Watershed
Ed Archuleta, President and CEO, El Paso Water Utilities
David Naftzger, Executive Director, The Council of Great Lakes Governors
Ben Grumbles, Former EPA Assistant Secretary for Water
Other topics to be addressed include:
Can the water industry meet the environmental challenge of shale gas?
Are performance contracts the way ahead for private sector participation?
Which new technologies are going to have an impact on America's water future?
Where is the smart money in the US water sector at the moment?
How will the water-food nexus impact the rest of the water sector?
See http://www.americanwatersummit.com for further details.
A limited number of press passes are available. Contact: Ruth Newcombe rn[a]globalwaterintel.com

American Water Intelligence (AWI), based in Austin, Texas, is a monthly subscribed magazine for all those involved with the American water industry, containing editorial, special features, regular articles from industry experts, a news round-up and project trackers. It will also host three new Water Rights & Trading Summits in 2012 in Arizona, California and Texas, in conjunction with WestWater Research. http://www.americanwaterintel.com
Global Water Intelligence (GWI) researches and publishes business data and information about the water markets worldwide. Head-quartered in Oxford, UK it also has offices in Singapore and USA (Austin, Texas) and has researchers and office staff in many other countries.
GWI publishes three subscription titles and a free weekly GWI Briefing email (http://www.globalwaterintel.com/accounts/mailinglist/) and around six individual reports per year on particular water sectors/geographic regions. It also organises two major financial conferences for the water industry each year: the American Water Summit in Autumn (Atlanta 2011) and the Global Water Summit in Europe in Spring (Rome 2012).
# # #