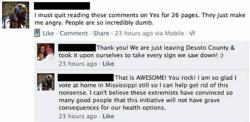 Jackson, MS (PRWEB) October 14, 2011
Supporters of a Mississippi ballot measure that would amend the state constitution to define the word "person" to include the preborn and recognize the equal rights of every human being have informed Personhood USA of the rampant theft and vandalism of campaign signs across the state.
Pelahatchie resident Buddy Hairston relayed that a 4 foot by 6 foot sign at his local church had been knocked over by the vandals. "It took some serious force to bend the metal posts," he said.
A southern Mississippi gas station was forced to call the police when a woman attempted to destroy a large Yes on 26 campaign sign that had been erected on the property. "She just got out of her car, walked up to it, and started tearing it apart," reported Personhood Mississippi Director Les Riley. "When police arrived, she told them that she was 'exercising her First Amendment right to free speech.'"
Pro-life volunteers also took notice of a post on a Facebook page in which an opponent boasts that while she and another person were "leaving Desoto County" they had taken it upon themselves "to take every sign we saw down."
"We welcome vigorous debate. That's what this country was founded upon. However, theft, vandalism, and intimidation efforts are not acceptable," stated Riley. "Perhaps, if those who would resort to such tactics would realize there will be consequences, they might not do it."
On the same Facebook comment thread, an attorney from Chicago replies "That is AWESOME!" and expresses her relief that she is able to vote in Mississippi while residing in Illinois. "I am so glad I vote at home in Mississippi still so I can help get rid of this nonsense," it reads.
Riley says they group reported the comment to the Voter Fraud Division, but asks that supporters remain vigilant and continue to report all suspected cases of fraud to the Mississippi Secretary of State's Office.
"Planned Parenthood and the ACLU's attempts to have the Mississippi Personhood Amendment removed from the ballot failed, and the pro-abortion proponents are showing signs of desperation," said Personhood USA President Keith Mason. "They're realizing that the abortion era is almost over, but our message that every human being is a person, and every person has a right to live, will not be silenced."
###