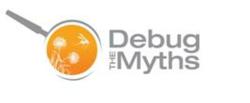 Washington, DC (PRWEB) October 17, 2011
RISE (Responsible Industry for a Sound Environment)®, today announced that a recent survey conducted by the trade association shows that nearly 70 percent of homeowners state that zero is the acceptable number of pests allowed inside their home before they take action to get rid of them. The fall season offers the most advantageous time of the year to protect homes, lawns and communities against unwelcomed pests and disease, such as being able to identify cool-air leaks where holes or cracks might invite critters to come inside.
Utilizing indoor and outdoor integrated pest management approaches allows homeowners to have more control in preventing infestation, structural damage, and disease from negatively affecting their homes. To help homeowners pest-proof their homes this fall, RISE is offering an easy-to-implement checklist with a memorable acronym that can be found at http://www.debugthemyths.com/inspectandprotect.
IN vestigate. Become a pest detective and investigate your home and yard for clues that pests may be present. You never know where they may be lurking.
S tudy. Take a deeper look into your home and study the situation, learn more about the pests causing problems and the damage they can bring with them.
P repare. In this step, plan how to most effectively solve your problem. Proper planning includes understanding the safe and correct way to execute any pest control approach.
E liminate. Put your plan into action. This step includes eliminating the pests' entry way into your home and eliminating problems that already exist.
C lean. Once you've eliminated welcoming entries for pests, maintaining a clean home and lawn is essential for discouraging pests from calling your home theirs.
T reat. Proactive and preventative treatment is key when talking about pests. Treating for problems at the first sign or before they appear will keep your home pest-free.
"We've seen how the extreme summer heat had pests looking for water in many unexpected places, and though the weather is beginning to cool, it's no time for homeowners to be idle in protecting their homes," said Gail Getty, research entomologist at the University of California at Berkeley and industry liaison. "The winter cold will send pests indoors looking for food and warmth. It's important for homeowners to consider the significant damage that can result from an untreated pest infestation, and this week lends the perfect time for them to stop and do their home-work."
With much of the U.S. population spending more time indoors during the fall and winter seasons, the chances increase for diseases to be spread if pests are left mismanaged. Uncontrolled pest populations, especially rats, cockroaches, bed bugs, spiders, and dust mites, can negatively affect the health of a family. Cockroaches, the most frustrating pest among homeowners who participated in the recent RISE study, transmit Salmonella while also contributing to the development of allergies and asthma, particularly in children.
Outdoor spaces are not exempt to proactive pest management and routine maintenance to keep harmful plants and pests away. Before winter weather hits, help your lawn store up for the winter by fertilizing and adding grass seed before heavy rainfall saturates the ground or frost creates a barrier.
"Find a convenient time to attend to the outside of your home when you get home from work or while you're letting the dog outside. It's important to conduct routine grooming to deter harmful plants like poison ivy, oak, or sumac away from where your family lives and plays," said Getty. "Keeping your lawn healthy during the winter can also help reduce cost when summer comes back around."
About RISE
Located in Washington, D.C., RISE is the national association representing the manufacturers, formulators, distributors and other industry leaders involved with pesticide and fertilizer products used in turf, ornamental, pest control, aquatic and terrestrial vegetation and other non-food/fiber applications. Learn more about RISE at http://www.pestfacts.org and http://www.debugthemyths.com
###