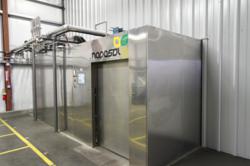 the proprietary technology applies saturated steam in a partial vacuum creating ideal conditions for eliminating spoilage and pathogenic microorganisms at relatively low temperatures.
Allschwil, Switzerland (PRWEB) October 17, 2011
Napasol AG, supplier of a natural steam pasteurization technology has validated its process for the elimination of microbiological contamination in walnuts. The technology is widely applicable to low moisture foods such as nuts, seeds, herbs and spices. These product categories have all been involved in product recalls or food born illness outbreaks for contamination with Salmonella, E. coli, or Listeria.
The science supporting the health benefits of the nut category has driven consumption to an all time high. However, nut related food born illness outbreaks have dampened this enthusiasm and caused the USDA in 2007 to mandate the pasteurization of almonds, and more recently, the FDA to issue recommendations regarding the handling of pistachios. Walnuts have been the subject of recalls of their own persuading the Poindexter Nut Company that only pasteurization would provide an adequate level of safety.
The nut industry mostly outsources the treatment of their product to custom pasteurization services but with Napasol the process can be brought in house and integrated in the process flow. The natural pasteurization method is suitable for organic and conventional nuts and has the advantage of being a very rapid process, only a few minutes are necessary at the pasteurization temperature to effectively reduce the microbial load. The pasteurization unit at the Poindexter Nut Company handles 3'500lbs per hour in a compact facility that includes a pasteurization chamber and auxiliary systems such as steam supply, pumps, and chillers. Napasol offers a range of batch and semi-continuous systems whose capacities range from 1'000lbs/ hour to 25'000lbs/hr. There is also an option for parallel chambers that tap into a common auxiliary supply thus doubling the throughput.
In a growing market fuelled by positive news about the health benefits of nuts, walnuts stand out in particular because in addition to supplying healthy fats common to all nuts; it is a unique source of mega-3. For the Poindexter Nut Company the investment decision to apply this natural pasteurization process is the insurance of supplying safe product while fulfilling the promise of the natural and healthy characteristics of walnuts.
The Pasteurization technology which is applied to nuts is also suitable for the pasteurization and sterilization of herbs, spices, seeds, and dry fruit offering Napasol huge opportunities in the US market. In 2010 Napasol INC was incorporated in Pacific Grove, California, to efficiently service its US customers while markets in other areas of the world are handled through the company headquarters in Switzerland.
###