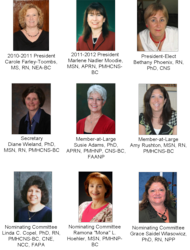 Arlington, VA (PRWEB) October 17, 2011
In an elections process that saw record member involvement, the American Psychiatric Nurses Association elected four new members to its Board of Directors and three new members to its 2012 Nominating Committee.
The APNA Board of Directors carries out the objectives and purposes of the association, establishing its mission, purpose, values, and direction. Newly elected to the APNA Board of Directors are:

President-Elect Bethany Phoenix, RN, PhD, CNS of the University of California San Francisco School of Nursing
Secretary Diane Wieland, PhD, MSN, RN, PMHCNS-BC; an Associate Professor for LaSalle University's School of Nursing and Health Sciences in Pennsylvania
Member-at-Large Susie Adams, PhD, APRN, PMHNP, CNS-BC, FAANP; a Professor of Nursing at Vanderbilt University School of Nursing in Tennessee
Member-at-Large Amy Rushton, MSN, RN, PMHCNS-BC; Chief Nurse Executive for the Northern Virginia Mental Health Institute
The new APNA President-Elect, Bethany Phoenix, RN, PhD, CNS is currently a Clinical Professor at the UCSF School of Nursing and also leads psycho-education and skills training groups for people with depression and anxiety disorders. She has served as a Member-at-Large on the Board of Directors for the past two years, consulted with APRN-PMH graduate programs internationally, and developed Psychiatric-Mental Health CNS positions in two nursing faculty practices and a community substance abuse treatment program. Secretary Diane Wieland, PhD, MSN, RN, PMHCNS-BC is returning to the Board to serve her second term as Secretary and brings experience in teaching, private practice, writing, and state level policy work to the board. Member-at-Large Susie Adams, PhD, APRN, PMHNP, CNS-BC, FAANP has over 35 years of experience spanning a variety of roles in psychiatric nursing, extensive leadership experience within other organizations, and has served as PMHNP curriculum consultant for universities in the United States, United Kingdom, and Japan. Finally, Member-at-Large Amy Rushton, MSN, RN, PMHCNS-BC formerly served as APNA's Director of Education and has continued to actively participate in APNA's councils, committees, and task forces for the past 13 years. Her experiences from staff nurse to Chief Nurse Executive provide her with insight into both the micro and macro issues facing the psychiatric mental health nursing profession.
Linda C. Copel, PhD, RN, PMHCNS-BC, CNE, NCC, FAPA; Ramona "Mona" L. Hoehler, MSN, PMHNP-BC; and Grace Saidel Wlasowicz, PhD, RN, NPP are the three newly elected members of APNA's 2012 Nominating Committee. The Nominating Committee will select a slate of candidates for the Board of Directors next year and will oversee the electoral process. Copel is a Professor of Nursing at Villanova University and also works as an Advanced Practice nurse in a private practice outpatient mental health and drug and alcohol facility. Hoehler is a faculty instructor at Vanderbilt's School of Nursing with 24 years of management experience in psychiatric nursing who has worked with patients across the lifespan, from young adults to geriatrics. Wlasowicz, an Assistant Professor of Clinical Nursing University of Rochester School of Nursing, recently participated in her school's MS program revision to convert the Nurse Practitioner curriculum to a lifespan approach.
These members will assume their new positions during the "Annual Meeting and Town Hall" at the APNA 25th Annual Conference, October 19-22, in Anaheim, California. At that time, Carole Farley-Toombs, MS, RN, NEA-BC will conclude her term as APNA President and current President-Elect Marlene Nadler Moodie, MSN, APRN, PMHCNS-BC will assume the office.
The caliber and enthusiasm of the 2011-2012 Board of Directors and Nominating Committee demonstrates the continued forward progress of the association as a whole, and we are pleased to welcome them to their leadership positions within this organization of professionals.
###