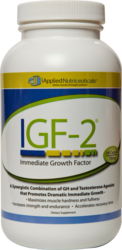 The great thing about IGF-2 is that there is something in it for everyone.
Charlotte, NC (PRWEB) October 19, 2011
IGF-2, a powerful blend of naturally occurring compounds made by Applied Nutriceuticals, is now a bestselling product on Bodybuilding.com, thanks to the growing trend stated by IGF1.net as raising one's Human Growth Hormone. IGF-2 increases the natural molecular structure similar to insulin known as IGF-1 or Insulin-like Growth Factor 1, which plays a vital role in the growth and anabolic muscle building effects in adults.
"The great thing about IGF-2 is that there is something in it for everyone. For young men, you can use it as a muscle builder. For older men, it's a hormone replacement therapy product, and women of every age see an improvement in hair, skin and nails," says Don Orrell, president of Applied Nutriceuticals.
According to IGF1.net, the primary purpose of IGF-1 is to stimulate cell growth. With IGF-2, this hormonal optimizer is precisely formulated and dosed to provide dramatic, noticeable results fast by triggering enormous increases in IGF-1 growth hormone and testosterone production. Older users will enhance their libido and virility, and body mass gains will be clearly noticeable in their first cycle. Users can even use it as a natural hormone replacement therapy product.
IGF-2's synergistic combination of GH and Testosterone Agonists that promote dramatic, immediate growth show:

Maximized muscle hardness and fullness
Increase in strength and endurance
Accelerated recovery time
Increase collagen production for a more youthful appearance
Improved sleep
For more information, visit http://appnut.gostorego.com/igf-2tm.html
About Applied Nutriceuticals
Founded in 2006, Applied Nutriceuticals applies the most advanced technology and research techniques to continuously pioneer the most effective products in the supplement industry. Their mission is to develop, manufacture and market high-performance nutritional supplements that deliver safe, consistent and measureable results while never forgetting their primary purpose for existing: to serve their customers. Every product is made in their state-of-the-art cGMP facility and is tested by its own chemist and formulator to be packaged and shipped from the warehouse located in Charlotte, NC.
Contact
Alyson Tagliaferri
704-509-5999
Alyson(at)appliednutriceuticals(dot)com
###