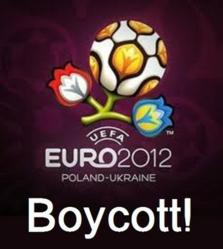 So much for UEFA's much-hyped campaign to 'kick racism out of football'
(PRWEB) October 14, 2011
Last weekend, Shakira did the salsa for a select crowd of Ukraine's oligarchs and their friends, as well as the country's President Viktor Yanukovych, at the opening of a new Kiev stadium which is meant to host the final match of UEFA's 2012 World Cup Finals. Outside, as witnessed by democracy4us.org, despite new government bans on all organized protest, FEMEN members have continued to garner attention for their movement to stave off the games, which they feel will turn economically weak Ukraine into a brothel for sex tourists around the world. Prostitution in Ukraine is illegal but reports say the country remains one of the main suppliers of prostitutes to Western Europe. However, sex tourism is only one of many concerns surrounding the games.
Local and global animal rights groups such as Global Animal are expressing fury and conducting their own protests over the fact that stray dogs, formerly killed with shots of an illegal poison, are now being herded, in preparation for the games, into 900 degree gas chambers in droves as part of a mass clean up operation.
Likewise, in Lvov, a 16th century synagogue where the Nazis herded and burned Jews alive during World War 2, is being bulldozed, like others in Ukraine, to pave way for facilities for the games. Tom Gross, a journalist from The Guardian, first wrote of the destruction of the Golden Rose Synagogue, a UNESCO monument. And where is the European football body, UEFA?" asks Gross. "So much for UEFA's much-hyped campaign to 'kick racism out of football.'" Leading religious figures, from all faiths, have written an open letter to Ukrainian authorities reiterating Gross' statements.
In recent days, the Union of Afghan War Veterans, many of whom were being employed to help construct Euro 2012 infrastructure replacing these synagogues, has threatened to begin bombing the very same buildings that it erected due to its disgust over the country's economic and political policies . Moreover, the organization has joined forces with over 100 civic organizations and 30,000 activist groups, according to its leaders, to demand that the government step down by November and that new elections be held, saying that it has discredited itself and ruined the future of Ukrainian youth. The group held a forum, today, in Kiev, led by representatives from the All-Ukrainian Veterans' Association, in which it announced that, should the government not heed its demands, it would launch revolutionary activities.
Meanwhile, governments including those of the US and Australia have posted on their sites travel warnings for Ukraine, citing the potential of civil unrest and selective justice, warning their citizens that they could be held and prosecuted without due cause and punished without legal recourse or limitation. Yesterday, Amnesty International compounded fears by condemning Ukraine for allowing police brutality against civilians.
Ukrainian journalists also continue to voice concerns regarding the games. In past days, writers from Ukrainskaya Pravda, perhaps the country's last significant remaining Ukrainian-language newspaper not under government control, have debated the relative merits of the games, and the immense amount of monies being lavished upon them by the government of the impoverished state, which they say are widely believed to be bringing immense financial benefit, through rigged tenders and various forms of bribery and corruption, to the very same oligarchs who are financing the authoritarian crack-down spearheaded by Yanukovych.
This crack-down came to a pitch on Tuesday, when, following a lengthy and perverse trial, which the EU and leaders around the world have widely condemned as a grotesque example of the selective justice practiced in Ukraine, former Prime Minister Yulia Tymoshenko, the leader of the country's political opposition, was sentenced to 7 years in prison and a fine of 190 million dollars for exceeding her powers while in office, under an abstract and antiquated law which lingers in the Ukrainian criminal code, originally created and utilized by Josef Stalin to purge enemies of the Soviet state without particular reason.
Protestors from all groups have asked UEFA representative Michel Platini to explain why UEFA is helping to promote Ukraine and encouraging hundreds of thousands of tourists to visit the country in lieu of these significant concerns.
# # #