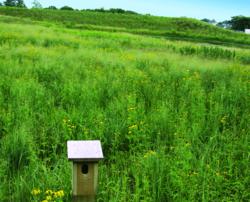 Spacesaver has been committed to environmental stewardship through innovative product enhancements and internal sustainable practices. This new website gives us the opportunity to share our story, said Julie Weber, A&D Marketing Specialist
(PRWEB) October 21, 2011
Spacesaver Corporation, a leading storage solutions provider, has launched a new website focused on corporate environmental stewardship and sustainable product design.
The site, http://sustainablestorage.spacesaver.com, is intended to make Spacesaver's product specifications and sustainability commitment more easily accessible to the customer and specifier.
"For many years, Spacesaver has been committed to environmental stewardship through innovative product enhancements and internal sustainable practices," said Julie Weber, A&D and Environmental Marketing Specialist with Spacesaver. "We just haven't had a way to share that story with our customers. This new website gives us the opportunity to do just that."
Spacesaver's Corporate Sustainability website will host information on:

Sustainable Product Design: Downloadable material, such as sell sheets for steel, wood and plastic
Corporate Sustainable Practices: Downloadable corporate sustainability brochure
Current Certifications and Memberships: GREENGUARD® Certification, USGBC and CaGBC membership, and the Green Masters Program
Sustainability Focused Case Studies: Anacostia Library
The Integrative Design Process and Revit
Image gallery with sustainable storage examples
Architects, designers, and specifiers will also be able to access this website through visiting http://www.spacesaver.com.
Spacesaver's commitment to sustainable product design really began with the foundation of the business in 1972 by Theodore W. Batterman. Increases in land, building and energy costs, enabled him to create a new industry with high-density mobile storage solutions. Over the last 40 years Spacesaver has continued to produce storage and shelving solutions designed and manufactured to save space.
"Our story is worth sharing and promoting through this dedicated website," said Ken Bowman, Senior VP of Sales and Marketing at Spacesaver.
"I have been working on our energy and water conservation projects for the past several years," said John Gray, Facility Manager for Spacesaver. "With this new website I have a way to share some of our activities with the people who really want to know… the people who invest in our products." Spacesaver's recent conservation projects include the implementation of a reverse osmosis water treatment process on-site, which discharges potable processing water. This initiative has reduced the amount of sanitary discharge to the city water treatment facility by 20,000 gallons a day. Another initiative was featured in Buildings Magazine in 2010. Existing infrared heating units were retrofitted with an Ethernet capable temperature control and power supply, allowing plant maintenance actual desktop control of the heating units.
To keep up with Spacesaver follow us on Twitter at Twitter.com/Spacesaver or on Facebook at: http://www.facebook.com/pages/Spacesaver/305367237390
About Spacesaver
A leading storage solutions provider, Spacesaver Corporation designs, manufactures, and markets high-density mobile storage systems and an array of storage solutions and related accessories uniquely designed to help decision-makers better manage time, space, and security. Since 1972, Spacesaver has successfully installed more than 100,000 storage systems to solve storage challenges for those in education, government-military, healthcare, museum, public safety, business, and industrial sectors. A division of KI, Green Bay, Wis., Spacesaver employs nearly 500 at its manufacturing facility in Fort Atkinson, Wis. The manufacturing plant, which has earned ISO 9001:2008, encompasses 358,000 square feet. Sales, installation and service are provided by The Spacesaver Group of independent distributors.
# # #