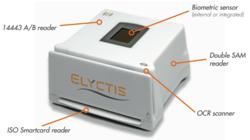 Pertuis, France (PRWEB) October 17, 2011
Elyctis announces its ID BOX is now available for shipping by quantity. The ID BOX is an electronic ID document reader that allows everyone, including border control officers, law enforcement officers, or more generally all stakeholders having to control an ID document, to verify the consistence between the person and all the data securely contained in the electronic passport.
ID BOX reads all features of electronic and biometric passports, in a fast and efficient manner. Electronic passports include a chip containing the identity and photo of the passport holder protected by a cryptographic mechanism. In addition, biometric passports contain the passport holder's fingerprint. Until now, verifying the identity of a passport holder was either limited to visual aspects or needed complex and costly equipments.
Privacy protection is a central issue taken into account in biometric passport programs. Access to the electronic chip of a passport is protected by a key calculated from the optical data read in the Machine-Readable Zone (MRZ). On top of this mandatory Basic Access Control, access to fingerprint data is often protected by EAC (Extended Access Control) protocol based on PKI and limited to certain categories of agents.
Elyctis ID BOX includes an optical scanner, a contactless chip reader and a fingerprint sensor, along with a contact smart card reader and two SAMs (Security Access Modules). The contact reader and the SAMs ensure that only an authorized person is able to verify the complete passport holder identity.
With these unique features, Elyctis ID BOX is able to scan the MRZ from a passport, in order to unlock the data contained in its contactless chip, and also to read the passport holder fingerprint in order to verify the identity of the passport holder. Connected to a USB port without additional power supply and embedded into a tiny housing, the Elyctis ID BOX supports all industry standards: ICAO, IAS, ISO7816, ISO14443, PC/SC, and biometry. It is compliant with all ICAO specifications and recommendations: BAC, PA, AA, EAC and SAC.
Thanks to this combination of technologies, Elyctis ID BOX is the perfect solution for everyone having to verify passports. Users include not only border control officers and law enforcement officers, but also all other people requested to control passports, such as hotel receptionists, merchants, civil servants delivering various types of services, etc.
Now, the Elyctis ID BOX is available for shipping in quantities, in order to support the rollout of Biometric Passports, mandated by European and worldwide (ICAO – International Civil Aviation Organization) authorities.
About Elyctis
Headquartered in Pertuis, France, Elyctis specializes in the development of hardware and software dedicated to Secure Identity Documents (e-passport, e-ID card, e-driver license, ...). The company, created in 2008, has a longstanding expertise in eID projects, as well as hardware and software developments.
More information at http://www.elyctis.fr
Contact
Alexandre JOLY, CEO, +33 6 27 71 37 68
press(at)elyctis(dot)fr
###