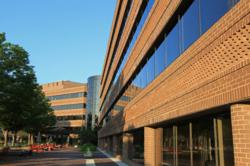 Sterling, VA (PRWEB) October 18, 2011
InfoRelay Online Systems, Inc., a leading IT solutions and connectivity provider, announced today that its headquarters will be moving from its current location in Sterling, Virginia to a larger location in Herndon, Virginia in response to substantial recent growth.
The new space located at 13873 Park Center Road in Herndon, VA, is a Class A office building attached to the Dulles Hilton Hotel. Also known as the Hallmark building, it is home to several high-profile tenants, including Congressman Frank Wolf and companies such as Electronic Warfare Associates (EWA) and Qivliq. Minutes from Dulles International Airport, the recently renovated building's amenities include on-site management, a state of the art fitness facility, food services, 24-hour security, abundant conference facilities and an airport shuttle.
Since the new location will house InfoRelay's 24x7x365 Network Operations Center (NOC), it has been outfitted with redundant backup power systems, and will benefit from redundant fiber optic connectivity to InfoRelay's Northern Virginia and Washington, DC data centers. The larger office space and state-of-the-art NOC ensure that the company will have room to grow in accordance with its future plans for expansion and evolution of its service portfolio. "The adoption of cloud technologies has opened many windows of opportunity for companies in our industry. We intend to capitalize on this change in order to continue to offer our customers the best possible services available on the market today," said Daniel O'Connor, Director of Operations at InfoRelay.
The move was largely spurred by continued growth in financial and healthcare markets within the Washington, DC and Northern Virginia area resulting in the need for additional staff. "InfoRelay prides itself on outstanding customer service," Russell Weiss, President of InfoRelay, stated. "With the steady increase in demand for high-availability data center space, and the evolving landscape of the industry, we're continuing to innovate and support our clients by the hiring best talent the IT world has to offer. For InfoRelay, this means expanding our office facilities and NOC to support our growth."
InfoRelay's path of innovation includes a major announcement concerning the new custom-built headquarter space, which, according to the company's Marketing Coordinator, will be released in Q1 of 2012. InfoRelay will continue to maintain offices within its Reston data center to address the needs of customers at those locations.
The move is scheduled to be completed by December 2011.
About InfoRelay Online Systems, Inc.
InfoRelay Online Systems, Inc. delivers enterprise-level managed services to small to medium-sized businesses. InfoRelay improves its clients' efficiency and profitability through the company's array of reliable IT services. By demonstrating unparalleled levels of responsiveness, concern, and overall service, InfoRelay establishes a unique trusting relationship with each client, allowing InfoRelay to act as a 24x7x365 extension of its clients' IT departments. This partnership permits InfoRelay's clients to focus on their core competencies, instead of the day-to-day concerns of hosting infrastructure. For more information, please visit http://www.inforelay.com, follow InfoRelay on Facebook and Twitter, or call (703) 485-4600.
###