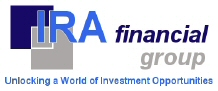 "The fact that a self directed IRA investor has checkbook control over his or her assets makes it vital that the investor work directly with a tax professional", stated Adam Bergman
Miam, FL (PRWEB) October 17, 2011
With the increase popularity in using a self directed IRA to make nontraditional investments, such as real estate, a number of investors have experienced issues of fraud as well other IRS concerns with respect to their investment. Just last month the SEC issued an "investor alert" about self-directed IRAs, warning investors to verify the assets they want to purchase through these accounts, which have been used to lure money for Ponzi schemes. "The fact that a self directed IRA investor has checkbook control over his or her assets makes it vital that the investor work directly with a tax professional," stated Adam Bergman, a tax attorney at the IRA Financial Group.
When it comes to making investments using retirement funds, the Internal Revenue Code does not describe what a self directed IRA could invest in, only what it cannot invest in. Internal Revenue Code Sections 408 & 4975 prohibits Disqualified Persons from engaging in certain type of transactions. The purpose of these rules is to encourage the use of qualified retirement plans for accumulation of retirement savings and to prohibit those in control of self directed from taking advantage of the tax benefits for their personal account. "What we have found is that by consulting directly with the client on the proposed self directed IRA investment, we are able to uncover any potential IRS or tax issues with the proposed investment," stated Adam Bergman.
When choosing the IRA Financial Group, you will automatically enrolled in our self directed IRA tax consultation service. Each client will have direct and unlimited access to our in-house tax and ERISA attorneys. Each client of the IRA Financial group is assigned a tax attorney in order to ensure that the tax structure established is in compliance with IRS rules. "Our clients have worked hard their whole life for their retirement funds and we strive to provide each and every client with individualized tax consultation regarding the IRS prohibited transaction rules," stated Adam Bergman.
"In many cases what we have found is that by discussing the transaction with the client, potentially investment risks do present themselves and the client is often able to address them before making the investment," stated Scott Krokoff, tax attorney at the IRA financial Group.
The IRA Financial Group was founded by a group of top law firm tax and ERISA lawyers who have worked at some of the largest law firms in the United States, such as White & Case LLP and Dewey & LeBoeuf LLP.
IRA Financial Group is the market's leading checkbook control IRA and Solo 401k Plan Facilitator. We have helped thousands of clients take back control over their retirement funds while gaining the ability to invest in almost any type of investment, including real estate tax-free and without custodian consent!
To learn more about the IRA Financial Group please visit our website at http://www.irafinancialgroup.com or call 800-472-0646.
# # #