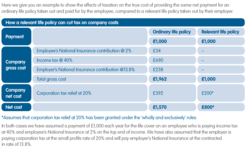 Website launched to help company directors save up to 49% on personal life insurance premiums.
Huddersfield, England (PRWEB UK) 18 October 2011
Damian Youell, owner of NeedingAdvice.co.uk, has identified a specific kind of business protection insurance that can save Company Directors up to 49%* on their personal life insurance premiums. Although the Relevant Life Policy has been available for a few years, Damian says that most Company Directors are not aware that the policy exists and many are paying their personal life insurance premiums out of income that has already been subject to tax and national insurance.
Although tax relief is available for bigger companies with 5 plus employees through a registered group death in service benefit, until recently smaller companies with fewer than 5 employees have been excluded. Previously a smaller limited company with perhaps 2 directors would pay their insurance premiums from the company and be subject to a P11D benefit in kind. Alternatively they would just pay the premiums personally from income that has already been subject to tax and national insurance.
Damian states that the Relevant Life Policy site has been launched to help plug this gap. The Relevant Life Policy is owned and paid for by the company. The premiums can be offset as a business expense. The relevant life policy is set up in a trust so that if a claim is made it is paid to the employee or company director dependents.
Damian has spoken to many accountants that haven't been unaware that such a policy existed. Many of the accountant's clients have policies paid for by the company but not relevant life policies and therefore are being subject to P11D benefit in kind. In order to educate the public and accountants, Damian has now set up a dedicated website that offers guidance and help for those looking to take advantage of the benefits on offer.
Damian states that so far, 4 insurance companies have entered the Relevant Life Policy market -Bright Grey, Scottish Provident, Zurich and Pru Protect. Each has their own pros and cons. Unlike a group death in service policy that is usually restricted to 3 times annual salary a Relevant Life Policy can be taken out up to 20 times remuneration including dividends and benefits such as company car benefits.
The website Relevant Life Policy Insurance has various downloadable guides and an online savings calculator that can illustrate the savings on offer. As well as offering information and guidance, the new site offers an online appointment booking service. This allows those needing advice to arrange a convenient time for Damian to ring them to provide quotes and advice on how a Relevant Life Policy could help them.
Damian is an Independent Financial Adviser. Over the last couple of years he has helped many small companies enjoy the benefits and savings that can be attained through using this tax efficient life insurance. You can find out more about how a Relevant Life Policy may help you by visiting the new site. Alternatively ring Damian directly on 07912 076990.
*Assumes that corporation tax relief at 20% has been granted under the 'wholly and exclusively' rules. An employee who is paying income tax at 40% and employee's National Insurance at 2% on the top end of income. We have also assumed that the employer is paying corporation tax at the small profits rate of 20% and will pay employer's National Insurance at the contracted in rate of 13.8%.
###