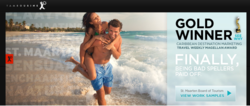 Our work for St Maarten has increased visitation, brand awareness and contributed to an enhanced overall economic outlook for the Country we love
Pompano Beach, Florida (PRWEB) October 17, 2011
When Travel Weekly announced its Annual Magellan Awards this week, only one Caribbean island achieved the highest honor. St. Maarten Tourism Bureau and its marketing agency, Tambourine, have been selected as 2011 Gold Magellan Award Winners for Caribbean Beach Destination marketing.
With entries from around the world, The Magellan Awards honor the very best in the travel industry across a broad range of industry segments, including: hotels and resorts, travel destinations, cruise lines, online travel services, airlines and airports, tour operators and car rental companies.
The Magellan Awards are judged by a world-class panel of top travel professionals and renowned leaders from the industry, including: Bob Dickinson, former President & CEO of Carnival Cruise Lines; Peter Greenberg, Travel Editor for The Early Show - CBS News; Patricia Schultz, author of 1,000 Places to See Before You Die; travel blogger Johnny Jet; Rudy Maxa, PBS Host of Rudy Maxa's World; and Lalia Rach,Professor/Founding Dean, NYU Tisch Center for Hospitality, Tourism and Sports Management.
"Our work for St Maarten has increased visitation, brand awareness and contributed to an enhanced overall economic outlook for the Country we love," said Rafael Cardozo, managing partner of Tambourine. "Being recognized by Travel Weekly and their distinguished panel validates our work even further. We're very proud."
"This year's Magellan Award winners have once again impressed the judges with their creativity and sense of style," said Arnie Weissmann, editor-in-chief of Travel Weekly. He added, "The recipients of the Magellans truly represent the best of the industry, and their accomplishments are inspiring."
ABOUT TAMBOURINE:
Tambourine is an ROI-obsessed marketing agency driving demand, revenue and brand awareness for travel and tourism clients since 1986. Based in South Florida, Tambourine creates inspiring digital experiences and engaging campaigns that produce measurable results.
To learn more, please visit: http://www.TambourineCreative.com
ABOUT THE TRAVEL WEEKLY MAGELLAN AWARDS:
The Magellan Awards is the premier award for the travel industry. From design to marketing to services, the Travel Weekly Magellan Awards honors the best in travel and salutes the outstanding travel professionals behind it all.
Visit http://travelweeklyawards.com/winners/ for more information
###