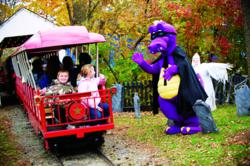 Explore the hip vibe of Downtown Lancaster, especially for unique shopping that's nationally-ranked for independent retail.
Lancaster, PA (PRWEB) October 17, 2011
When the leaves are turning and the harvest is coming in, there's no better time to discover the sights and delights of fall in Lancaster County, the bountiful heart of Pennsylvania Dutch Country.
From haunted houses to special trick-or-treat events to ghost tours, Lancaster County Halloween has all the spooky activities and attractions to make the 2011 Halloween season the best ever! Enjoy some not-so-scary BOOs at Dutch Wonderland's Happy Hauntings, or prepare for some spine-tingling chills at Jason's Woods.
The great outdoors are particularly inviting during Lancaster's autumn, with gorgeous foliage often on display as late as early/mid-November in scenic settings like Tucquan Glen Nature Preserve, Chickies Rock overlooking the Susquehanna River, or along the winding routes of the area's self-driving Covered Bridge tours.
Add some activity to the leaf-peeping with fresh-air fun like the lords and ladies of the Pennsylvania Renaissance Faire (through 10/30), the twists and turns of Cherry Crest Adventure Farm's Amazing Maize Maze (through 11/5), or the wonder and whistles of the Strasburg Rail Road (daily through 11/13, weekends thereafter).
Why not include the hip vibe of Downtown Lancaster in the exploring, for first-rate dining, evening entertainment, and especially unique and creative shopping that's rated in the Top 25 nationally for independent retail, featuring the artisans of Gallery Row, the funky block of 300 North Queen, and numerous fashion and gift boutique shops around a walkable city center.
While downtown, stay for a show at the nationally-renowned Fulton Theatre, with performances of the classic thriller Gaslight, 10/19-11/6. Head to the countryside, instead, for the musical Amish love story The Confession, based on Beverly Lewis' beloved novels and playing at the Bird-in-Hand Family Restaurant & Stage through 12/2. Or laugh and sing with the always-enjoyable Me and My Girl at the Dutch Apple Dinner Theatre through 11/12.
All of this autumnal activity has the makings of a great overnight (or two) getaway, so make the most of the budget with rooms at select hotels or inns for as low as $99/night more or less, or a B&B stay for as low as $139/night more or less. Both of these lodging deals run through 10/28.
###