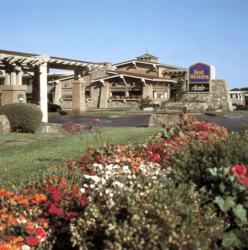 Families are eager to trade in the interstate for one of North America's iconic routes to create lasting family travel memories.
Phoenix (PRWEB) October 18, 2011
As another year comes to a close, families are making New Year's resolutions to stay on a budget – but not at the expense of losing fun-filled family vacations, according to Amy Graff, independent family travel expert for Best Western International and senior editor for the award-winning blog, On the Go with Amy.
In 2012, families will be looking for budget-friendly travel spots with local attractions like national parks, museums with free or discounted days and hotels with kid-friendly amenities, such as pools and playgrounds. To help families plan memorable and budget-conscious vacations, Graff released today her Top 12 Destinations for Family Travel for 2012 list with tips for how to enjoy an affordable getaway.
"Families are eager to trade in the interstate for one of North America's iconic routes to create lasting family travel memories starting next year," Graff said. "Whether traveling along Route 66 or across the Trans-Canada Highway, expect families to become creative in the way they approach travel and visit cities and attractions that entice a sense of nostalgia for grownups and deliver new adventures for kids."
Graff's Top 12 Destinations for Family Travel list includes the following cities (listed in alphabetical order):
Bainbridge, Wash.
A short 35 minute ferry ride from Seattle, Bainbridge Island offers family the beauty and culture of the Pacific Northwest in a quiet waterfront setting. Nestled among forested hills and quiet harbors, the BEST WESTERN PLUS Bainbridge Island Suites is tucked in the Washington State wilderness, but is still convenient to many free local attractions, including walking along the beautiful Bloedel Reserve or biking through one of the surrounding state parks.
Bloomington, Minn.
Home to the Mall of America, Bloomington is the ideal destination during stormy winter months when it can be most difficult to find ways to keep kids entertained. Escape the rain and snow with a trip to Nickelodeon Universe, the country's largest indoor amusement park. Budget-savvy families can take advantage of online coupon sites, like Groupon and Living Social, to maximize retail and local attraction deals. For free entertainment, BEST WESTERN PLUS Bloomington Hotel offers two indoor pools and a water playland for guests of all ages.
Clayton, N.M.
As the first town on the Santa Fe Trail, Clayton has a variety of free outdoor recreational and learning activities. See more than 500 real dinosaur tracks and fossils along the Mill Canyon Dinosaur Trail and get a rare chance to walk inside an actual volcano crater at Capulin Volcano National Park. The BEST WESTERN Kokopelli Lodge offers guests Southwestern hospitality with easy access to outdoor adventures, including hiking, swimming, fishing, golf, archery and tennis.
Fort Walton Beach, Fla.
Forgo the crowds and cost of Miami and find beach solace in family- and budget-friendly Fort Walton Beach. With sparkling sands and crystal blue water, Fort Walton Beach visitors can break from fun in the sun with visits to the Air Force Armament Museum and Indian Temple Mound Museum to see more than 6,000 ancient Native American artifacts. Located along the beachfront, the BEST WESTERN Fort Walton Beachfront hotel is centrally located near seasonal festivals, snorkeling and playing in the sand.
Fredericksburg, Va.
Cross off visiting America's most historic monuments from the family bucket list with a trip to Fredericksburg, located just an hour outside of Washington, D.C. Take the family on a spooky historical journey with a Ghosts of Fredericksburg walk and visit Ferry Farm, George Washington's boyhood home, which offers dozens of seasonal activities. The BEST WESTERN Fredericksburg hotel is located near fun family activities like canoeing down the Rappahannock River or taking a horse-drawn carriage tour of historic sites.
Helena, Mont.
Take a nostalgic trip to Helena's famous Parrot Candy Store, featuring more than 130 mouthwatering types of candy and an old fashioned soda shop for a price reminiscent of the "good ol' days." Or give kids a hands-on science lesson at Exploration Works, which offers free admission on select days. The BEST WESTERN PREMIER Helena Great Northern Hotel is also steps away from the world-famous Great Northern Carousel.
Houston, Texas
They say everything is bigger in Texas, but the cost of some of Houston's best attractions is anything but. From the Downtown Landry's Aquarium to the Space Center Houston, where visitors can watch astronauts and engineers in training, Houston is the ideal setting for families looking to have big fun without a big price tag. Located in the heart of downtown and within walking distance to more than a dozen kid-centric attractions, BEST WESTERN PLUS Downtown Suites is the perfect hotel for budget-conscious families seeking to discover everything that Houston has to offer.
Manchester, N.H.
The largest city in New Hampshire, Manchester is a bustling urban center in quiet New England. Children under 18-years-old can experience fine art by Pablo Picasso and Georgia O'Keefe for free at the famed Currier Museum of Art or enjoy tractor and pony rides at Charmingfare Farm. Close to the White Mountain Region ski area and Hampton Beach, The BEST WESTERN PLUS Executive Court Inn & Conference Center is a picturesque and affordable New England winter or summer getaway for the entire family.
Okanagan Valley, British Columbia, Canada
Beloved by thousands of visitors and inhabitants alike for the unparalleled variety of its climate and landscape, the Okanagan Valley has something for everyone. For a special wildlife-viewing experience Vaseux Lake Provincial Park, hit the ski trails at Silver Star, Big White, or Apex, or step back into the Okangan's history on the fully restored S.S. Sicamous Steam Paddlewheeeler. If you want to reduce your carbon footprint in style, visit the BEST WESTERN PLUS Kelowna Hotel & Suites, Okanagan Valley's award-winning "green" hotel.
Quebec City, Quebec, Canada
The birthplace of French America, Quebec is one of the world's most beautiful cities with the district of Old Quebec City recognized as a UNESCO World Heritage Treasure. Home to the world's largest winter carnival each February, the Quebec Winter Carnival, where a $13 (CAD) ticket buys access to all 17 days of the event. Quebec also hosts the Quebec City Summer Festival in July.BEST WESTERN Hotel L'Aristocrate is less than 15 minutes from the celebrated Battlefields Park, which hosts the winter carnival and summer festival each year.
Salt Lake City, Utah
With its gorgeous setting between the Wasatch Mountains and Great Salt Lake, Salt Lake City is a prime destination for outdoorsy families looking for affordable skiing, hiking and biking. Take a break from the outdoor adventures and visit the new, state–of-the-art Utah Museum of Natural History opening in late 2011. BEST WESTERN PLUS Cotton Tree Inn is close to the Lagoon Amusement Park and the Energy Solutions Arena with kid-friendly concerts and fairs.
San Simeon, Calif.
Home to the famed Hearst Castle, San Simeon offers beauty and tranquility along California's stunning Central Coast. As you wind your way down scenic Highway 1, take the chance to watch elephant seals at Piedras Blancas. Located just three miles from Hearst Castle, the BEST WESTERN PLUS Cavalier Oceanfront Resort is San Simeon's only oceanfront hotel and is a short drive to neighboring Paso Robles and San Luis Obispo.
ABOUT ONTHEGOWITHAMY.COM
OnTheGoWithAmy.com was created to celebrate the joys of travel and everything that goes with it – from flat tires and screaming children in the backseat to an amazing view of the New York skyline at the top the Empire State Building. Seasoned travel expert and journalist Amy Graff takes readers on the road with her husband and two children, her girlfriends and sometimes alone. With more than a dozen years of experience as a travel editor and writer, Amy most recently served as a senior editor at VIA, a travel magazine that reaches more than three million members of the American Automobile Association. Prior, she was a contributor to Bay Area regional lifestyle magazines including Diablo and San Francisco. In addition to serving as a contributing columnist for Best Western, Amy writes for Sunset Custom Publishing and serves as the community manager for the San Francisco Chronicle's new parenting site, Bay Area Moms, for which she writes The Mommy Files blog.
ABOUT BEST WESTERN INTERNATIONAL, INC.
Best Western International, Inc. is THE WORLD'S BIGGEST HOTEL FAMILYSM, providing marketing, reservations and operational support to over 4,000* BEST WESTERN®, BEST WESTERN PLUS® and BEST WESTERN PREMIER® hotels in more than 90* countries and territories worldwide. Each Best Western-branded hotel is independently owned and operated. Now celebrating 65 years of hospitality, Best Western has grown into an iconic brand that hosts hundreds of thousands each night. Equally committed to the business and leisure traveler, Best Western has embarked on a mission to lead the hotel industry in customer care. World Vision is the charity of choice for Best Western in building the world's biggest family, with our hotels and staff sponsoring children in need around the globe. Our partnerships with AAA/CAA, Michael Waltrip Racing™ and Harley-Davidson® help guests make the most of every trip. For the fastest way to a free night globally, join Best Western Rewards®. For more information or to make a reservation, please visit http://www.bestwestern.com.
*Numbers are approximate and can fluctuate.
###