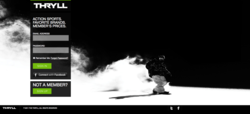 Boston, MA (PRWEB) October 17, 2011
THRYLL.com launches today at 11:00 AM Eastern / 8:00 AM Pacific as the online destination for action sports enthusiasts. THRYLL is a hybrid of a traditional e-commerce store, a social network and a members-only private sale site. THRYLL's event platform introduces members to cutting-edge gear and apparel brands at members-only pricing of up to 70% off retail.
THRYLL features gear, hard goods and apparel across multiple extreme sports categories including skate, snow, ski, wake, surf, kite, MMA, cycle, climb, parkour, and more. THRYLL works with cutting edge manufacturers carefully selected by THRYLL's buyers and members.
THRYLL's opening events will feature limited-edition custom crafted surfboards from master shaper Rick Malwitz of Malwitz Custom Surfboards; pro snowboarder Max Jenke's Endeavor Snowboards; apparel from iconic skateboard brand Vox Footwear; Vurtego extreme pogo sticks, Triumph United gear and apparel, and skate brands Girl, Chocolate and Fourstar.
New THRYLL events launch Mondays at 11:00 AM Eastern / 8:00 AM Pacific. Each event will feature offerings from four premium action sports brands. Upcoming events are available exclusively to members at http://www.thryll.com and are announced via e-newsletter. Membership is restricted in order to provide exclusive member benefits. Membership can be acquired through referral invite from a current member.
Jeanine Heller, THRYLL's Founder and Chief Executive Officer said: "We are extremely excited for launch. THRYLL brings a unique experience to our members by partnering with the best of the best in the action sports world. The events pose a great opportunity for brands to get in front of a massive audience, cross-market to reach new demographics and tell the story behind the brand."
About THRYLL.com
THRYLL is the online destination for action sports. THRYLL.com offers members access to a social community of like-minded action sport enthusiasts and premier brands. In addition to the social network and traditional e-commerce store, THRYLL offers limited stock, time-sensitive promotional events at members-only pricing of up to 70% off retail. Membership is complimentary but by invitation only. THRYLL was founded in 2011 by Jeanine Heller, formerly of Miramax Films, and Mike Fantasia formerly of Tinicum Capital Partners and Goldman Sachs. THRYLL is headquartered in Boston, MA.
###