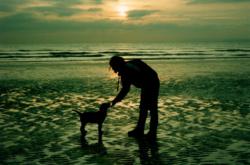 The program is referred to as a 'holistic integration' of psychological and spiritual aspects regarding end of life issues and the healing of grief.
(PRWEB) October 19, 2011
According to the American Pet Products Association National Pet Owners Survey for 2011-2012, 62% of U.S. households own a pet, which equates to 72.9 million homes. This reveals an upward trend from 56% of households in 1988. Sadly, every twelve to eighteen years the people in these homes who love their animals will lose them and face dealing with the loss of a pet. Given that the lifespan of most companion animals is far less than ours, most people with pets will experience loss and grief several times in their lives – often without much or any support.
To address that need, Animals in Our Hearts and the Animal Spirit Healing and Education Network have joined forces to create the online studies and teleclass based Professional Program of Study in Animal Loss and Grief Support. The program offers educational and healing classes both for individuals who need help dealing with the loss of a pet and for professionals in a variety of animal care fields to build their knowledge and skill in providing pet loss grief support. Certification is available for those who successfully complete the required fifty-five plus hours of classes, case studies, field work and mentoring/coaching.
According to Teresa Wagner, the guiding faculty member of the program, "The experience of pet loss has been disenfranchised far too long. For people who deeply love their animals, losing them to physical death may be one of the most difficult and emotionally challenging life passages they ever experience – often without much support. Everyone who experiences the loss of a deeply beloved pet deserves acknowledgement, loving support and opportunities for compassionate, competent professional help. This program was designed to provide such support directly to people dealing with the loss of a pet and to teach others to provide support with confidence and competence."
The program is referred to as a 'holistic integration' of psychological and spiritual aspects regarding end of life issues and the healing of grief.
Wagner, who designed the curriculum, says this is intentional: "A foundational belief in this program is that the most effective, meaningful and long lasting approach to healing grief is an integrative and comprehensive one – one that includes both grounded psychological support as well as exploration of the spiritual aspects of death, loss and grief including any relevant holistic healing modalities. Grief is both an emotional and spiritual process. We are proud to offer this holistic source of support and training for dealing with the loss of a pet that acknowledges and addresses both."
The eleven classes available in the online studies and teleclass program cover: serious illness and hospice care; end of life decision making; understanding, coping with and healing one's own grief; effectively helping others through loss; and understanding the animal's perspective throughout.
Classes are for animal lovers who have interest in any of the individual classes and for professionals who want a comprehensive training program to build their skill in this field to support their clients with the highest levels of competence and compassion. For professionals and lay people alike, individual classes can be taken as desired. Though prerequisites apply to some of the higher level classes, one does not have to enroll in the program of study to take a class.
Past participants have included veterinarians and other veterinary staff, animal shelter and rescue group workers, animal communicators, healing arts professionals, trainers and behaviorists, and therapists.
Participants who've taken the classes comment on their experience:
Sheila Goodman from New Jersey says, "This class was a deeply compassionate, gentle educational experience that opened me up to further understanding and awareness. I felt safe, loved and supported as I moved more deeply into expressing the profound pain of losing my dog. My grief no longer feels heavy and overwhelming. I will always, always miss him, but I now feel peace. Thank you!"
"I work at a vet hospital and am in continual contact with people falling apart with worry and grief. After taking the classes I feel 100% more able to help and in more effective ways. I think the clients always knew I really cared, but now I'm more confident (and better!) about my listening skills, how not to give advice inappropriately and to care deeply without getting enmeshed or overwhelmed. Handouts were fabulous! Well presented, and lots of clear, concise, thought-provoking useful info," says Sandra Johnson from Washington.
The online studies, teleclass based courses are available worldwide, year round. Most are available on demand to take at your convenience.
For more information on the Animal Loss and Grief Support Professional Program of Study visit http://www.animalsinourhearts.com/workshops-events/online-studies-pet-loss-and-grief.html.
Teresa Wagner is the author of Legacies of Love, A Gentle Guide to Healing from the Loss of Your Animal Loved One, has a masters degree in counseling psychology and has been offering grief support services since 1986. She owns and operates Animals in our Hearts through which she offers consultations, workshops and a series of CDs, books, articles, prayer flags and memorial candles to further help people dealing with the loss of a pet. The Animal Spirit Healing and Education Network offers further online studies.
###