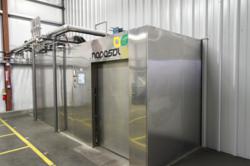 Mike Poindexter of Poindexter Nut Company « pasteurization is a way to insure the protection of their customers and their brand, to deliver safe product to the consumer, and contribute to the dynamic development of the market for nuts
Selma, California, USA (PRWEB) October 17, 2011
Poindexter Nut Company has been experiencing rapid growth in its walnut sales both domestically and internationally. The decision to invest in the Napasol pasteurization technology fits into the expansion of the processing site that handles today 42 million pounds of walnuts and is planning for 80% growth in the next 4 years. Along with the proposed addition of a new 14,000 m2 manufacturing facility, the company has invested in infrastructure, equipment, and personnel, in particular in their Quality Assurance program.
Low moisture foods such as nuts, previously considered safe, have been increasingly involved in food born illness outbreaks due to contamination with Salmonella, E. coli, and Listeria The notable exception in this category is almonds because it is the only nut that has a USDA mandated pasteurization program in place since 2007.
Walnuts are usually consumed raw and offer unique healthy nutritional benefits that require a delicate treatment. The Napasol process, which applies saturated steam in a partial vacuum, is effective at relatively low temperatures thus protecting the nutritional and sensory properties of the walnuts. It is suitable for organic products and is in line with growing consumers demand for natural products and chemical free treatment processes. Napasol AG whose headquarters are in Allschwil, Switzerland supplies its pasteurization technology worldwide, with installations that are tailored to the needs of its customers in the nuts, herbs and spice, and seeds industry.
Poindexter Nut Company is a family owned business that was founded in 1969 and has been processing and packing walnuts for retail and industry for both domestic and export markets. The company has contributed to the tremendous growth of the market and today ships walnuts to over 40 countries worldwide. With this significant investment in Quality Assurance and the Napasol pasteurization unit, Poindexter Nut is uniquely positioned in the USA to supply the retail market with pasteurized walnuts.
###