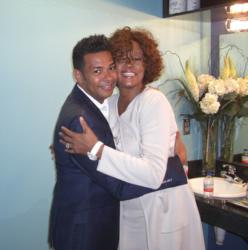 The Patricia Houston Foundation is something that I will always continue to support and bring awareness to.
Hollywood, CA (PRWEB) October 14, 2011
Raffles van Exel, President & CEO of Raffles Entertainment attended the 5th Annual Teen Summit held on October 8, 2011 in Shelby, North Carolina. Many stars from Hollywood came out in support of Teen Summit. Raffles van Exel made it possible for his client, "Blind side" actor Quinton Aaron to be a special guest speaker at the event. Among those who attended:
International Superstar Whitney Houston
Gospel Superstar Kim Burrell
Reverend Yolanda E. Thompson, MSJ/MDIV
Author/Inspirational Speaker Gerald Henry
Dr. Shirley Shields
"It was a pleasure seeing my good friends Whitney Houston, Pat Houston and Kim Burrell at the 5th annual Teen Summit," states Raffles van Exel. "We should invest in the future of our youth and as Whitney beautifully expressed in 'Greatest Love of All' it is up to us to 'teach them well, and let them lead the way'. The Patricia Houston Foundation is something that I will always continue to support and bring awareness to. I invite my friends in Hollywood to learn more about this amazing foundation and get involved!"
Teen Summit is a program developed under the umbrella of The Patricia Houston Foundation. Patricia Houston is manager and sister-in-law to the legendary R&B and Pop superstar, Whitney Houston. Teen Summit is a non-profit organization established in 2007 with the purpose to Rebuild, Restore and Repair the lives of teens and young adults facing life challenges. Teen Summit will provide life management skills that are lacking in some of today's youth. The Teen Summit vision is to mobilize an army of people committed to stopping the perpetual destructive behavior of teens and young adults. The results will be an emerging generation of leaders prepared for positive global impact on Education, Responsibility, Discipline, order and Respect.
About Raffles van Exel and Raffles Entertainment
Raffles van Exel, CEO of Raffles Entertainment, LLC, is a highly respected entertainment consultant having guided some of the world's most acclaimed executives and celebrities: Actor Quinton Aaron from the smash hit The Blind Side with Sandra Bullock, Soul-Funk icon Chaka Khan, Peter Lamas CEO and founder of peterlamas.com, "Skin Diva" Christine Heathman of glymedplus.com, the late King of Pop Michael Jackson, Whitney Houston, Patti LaBelle, Lance Bass (Founding member of iconic pop group, N'Sync), Flavor Flav of the iconic rap group Public Enemy and of the "Flavor of Love" fame, George Benson, and the late Ray Charles. Raffles van Exel has produced for The Queen of Salsa - the late and great Celia Cruz, funk pioneer George Clinton, Sisqo, Nick Cannon, Howie Dorough (Founding member of Grammy nominated group, The Backstreet Boys), rap icon and actor Ice-T, and a host of other artists.
Source: Raffles Entertainment
Contact: pr(at)rafflesentertainment(dot)com
###