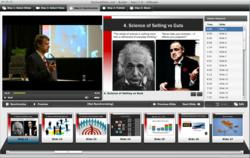 KVStudio 4.0 is the most powerful and flexible content creation tool on the market, yet it's exceptionally easy to learn and use.
San Francisco, CA (PRWEB) October 17, 2011
KnowledgeVision Systems today announced the availability of KVStudio 4.0, a new version of its powerful video online presentation creation tool. KVStudio 4.0 streamlines the process of learning and using the world's most powerful and flexible online presentation platform. In addition, the company has announced a 30-day trial program that will allow qualified content creators to see for themselves the power of KnowledgeVision on their online presentation projects. The company began demonstrating the new software and service at the Sales & Marketing 2.0 Conference in San Francisco.
KnowledgeVision's subscription-based software and cloud-based service serves the world's growing need for on-demand and live knowledge by creating rich, engaging presentations that synchronize video or audio, PowerPoint and other images, just-in-time footnotes and virtual handouts into interactive presentation experiences. Its creation tool, KVStudio, puts extraordinary flexibility in the hands of a content producer to produce both on-demand and live presentations, with either video or audio narration, in custom-designed player templates, and even incorporating live web pages as part of the presentation sequence.
"There is a growing demand for video in today's business world. It is an ideal way to share knowledge and influence colleagues, partners and customers," said KnowledgeVision CEO Michael Kolowich. "KVStudio 4.0 is the most powerful and flexible content creation tool on the market, yet it's exceptionally easy to learn and use. There is no special training required to use its basic features, and all the power of KnowledgeVision's many power-user options are just a mouse-click away."
Video First Look: KnowledgeVision CEO Michael Kolowich demonstrates KVStudio 4.0
KnowledgeVision is also offering a 30-day, risk-free trial for content creators who would like to try KVStudio with their own projects. It is available from the company's website at http://www.knowledgevision.com.
"We've taken a different approach to our free trials," said Kolowich. "Each trial user gets assigned a personal success coach to help them be successful with their first projects. This is free and without obligation. By sharing best practices and examples from the many thousands of KnowledgeVision presentations that have been created by our clients, KnowledgeVision coaches help trial users see the full potential of KnowledgeVision in their organization."
KVStudio 4.0 beta is being made available to all new trial users, and on request to current KnowledgeVision clients. The final version of KVStudio 4.0 will be available within the next several weeks.
About KnowledgeVision Systems
KnowledgeVision is single-mindedly focused on making online video work harder:

to make it perform better as a content marketing tool;
to make it more impactful as a sales tool;
to make it more engaging as a learning tool; and
to make it more effective as a corporate communications tool.
Clients all over the world use KnowledgeVision's tools to create orchestrated online video and audio presentations that combine their best communicators with PowerPoint slides, web pages and applications and supplemental material, and make them available from web browsers and mobile devices anytime, anywhere.
KnowledgeVision is a venture-backed company based in Concord, Massachusetts.
###