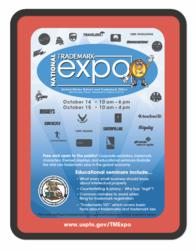 We are proud to have been selected for the 2011 National Trademark Expo, together with Traveler, GEICO, Bridgestone, and Mattel, etc.
Miami, FL (PRWEB) October 14, 2011
John E. Brown, Founder & President of the Pepsom Group (Miami FL) together with the company's co-founder and Vice-President Miya Haag, conceptualized and trademarked "Pepsom, the New Generation of Epsom Salt®".
The National Inventors Hall of Fame selected this company because of their innovation and success as a new enhanced brand of Epsom Salt – a first aid staple in a vast majority of homes in the US. Epsom salt has been used for generations to comfort tired, aching muscles, sprains, bruises, and is also known to improve sleep due to the relaxation experienced when soaking in this essential mineral. By enhancing Epsom salt and creating the Pepsom brand (magnesium sulfate infused with 100% natural and refreshing ingredients), the Pepsom Group continues to collect awards, recently winning "Best in Class" from Bi-Lo Supermarkets and the coveted "Emerging Business of the Year" Award from Greater Miami Chamber of Commerce.
The Pepsom Group is unique in many ways. This minority-owned corporation manufactures and markets Pepsom Sports® and Pepsom Salt® as "green" health and wellness products which have already transformed the otherwise staid first aid sections of food and drug stores. The brands are now sold in 20,000 food and drug stores due to the vast retail knowledge of John Brown's 30+ years in the retail industry (as one of the first African-Americans to represent such brands as Gerber, Hanover Brands.) Ms. Haag, an Asian-American product designer, garnered the attention of both retailers and consumers by creating bright, eye-catching packaging and logos.
Mr. Brown states, "We are proud to have been selected for the 2011 National Trademark Expo, together with Traveler, GEICO, Bridgestone, and Mattel, etc. Within a few short years, we have gained access to 20,000 retail outlets not to mention our on-line presence on Drugstore.com, Walmart.com and more. Our USPTO trademark registrations have been instrumental to our success. The Expo will educate other companies about the value of trademarks, and what every business should know about intellectual property. We are looking forward to making the Pepsom brand a household name."
About the Pepsom Group, Inc.
Following two years of research and development, the Pepsom Group incorporated in 2007and launched the first National Brand of Epsom salt geared for first aids. Honored by the U.S. Patent and Trademark Office and the U.S. Congress twice, this company is comprised also of senior staff members of the Miami Heat basketball team, as well as key advisory from former senior executives of Gatorade and IMG. Please visit http://www.pepsom.com for further information.
More information:
2011 USPTO National Trademark Expo
The National Inventors Hall of Fame and the U.S. Patent and Trademark Office have selected the following list of key exhibitors for the 2011 National Trademark Expo. The 2-day event will be held on Friday, October 14th, from 10:00 a.m. to 6:00 p.m. and Saturday, October 15th, from 10:00 a.m. to 4 p.m. at the USPTO headquarters in Alexandria, Virginia. The purpose of the Expo is to educate the public about the important role trademarks play in our society and the global marketplace.
This year's Expo will feature a broad range of organizations including large corporations, small businesses, non-profit corporations, and governmental agencies.
The 2011 exhibitors are as follows:

5-Hour Energy
1000 Cranes, LLC
American Girl, LLC
American Intellectual Property Law Association (AIPLA)
Creativity In Bloom
Bigsby Division and the Gretsch Company
Bridgestone Americas, Inc.
Caterpillar Inc.
City of Falls Church
Cmg Worldwide, Inc.
Cotton Incorporated
Elevation Burger
GED Testing Service
Geico
Idaho Potato Commission
International Trademark Association (INTA)
Mattel, Inc.
Rita's Ice, Custard, Happiness
The Girl Scout Council of The Nation's Capital
The Hershey Company
The Pepsom Group
Travelers
UPS
U.S. Air Force
U.S. Department of Commerce, International Trade Administration
U.S. Department of Homeland Security, Immigration And Customs
Enforcement, National LPR Coordination Center
U.S. Department of Homeland Security, Customs And Border Protection
U.S. Department of Interior, Indian Arts And Crafts Board (LACB)
U.S. Department of the Army
The 2010 Trademark Expo was a great success and was attended by more than 10,000 people from the trademark community as well as the public at large. The 2011 Expo will include educational lectures, tours, educational activities for children.
# # #