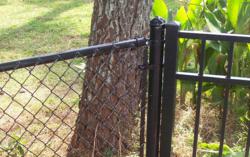 Chain link fencing with a black vinyl coating is a game changer in the chain link fence market.
Stockbridge, GA (PRWEB) October 17, 2011
The Stockbridge GA fence experts at Natural Enclosures Fence Company are bringing a new look to a traditional fence that was invented over 160 years ago. Chain link fencing still makes a great residential or commercial fence which will last a long time, however, bare metal chain link fencing becomes weathered and oxidized with age causing the fencing look in poor condition. A solution to the chain link fence oxidation problem is a chain link fencing product that has a coat of vinyl over the metal mesh and the piping that holds the mesh. The result is a great looking black chain link fence that will not oxidize like unprotected metal which adds years to the life of a fence. Natural Enclosures is now installing these great looking black chain link fences for residents in Atlanta, Stockbridge, McDonough, Jonesboro, Peachtree City, Jackson, Fayetteville, Carrolton, Covington, Conyers and Lithonia GA.
Chain link fencing was invented in Norwich, England in 1848 by a company that was founded to produce machines to weave the metal into fencing. The process was brought to the USA in 1898 when the Anchor Fence Company bought a chain link weaving machine. The rest is history and chain link fencing became a part of every community's back yards. Now with the advent of vinyl coated chain link fencing, customers can get a great looking fence at a great price and know that it will look great for years to come. Natural Enclosures Fence Company can install a new residential or commercial black vinyl coated chain link fence quickly on a customer's property. Natural Enclosures is making a special offer, customers will receive a free 10 ft. double-drive gate with the purchase of a minumum of 200 ft. of chain link fencing on orders received by December 31, 2011.
In addition to chain link fences, Natural Enclosures builds residential and commercial wood fences, metal fences, ornamental fences and vinyl fences. They also install high security commercial fencing, temporary fencing and automatic gates and entry systems. Other Natural Enclosures products include residential estate gates and swimming pool fencing. The company also refurbishes wood fences to give them a "like new look" without having to be replaced which saves property owners money and makes their property look great. Natural Enclosures is expanding their services into West Georgia by bringing their residential and commercial fence services to Carrolton GA and the surrounding area.
The owner of Natural Enclosures Fence Company, Danny Kilpatrick, commented about their vinyl coated chain link fence product. "We have installed a lot of chain link fences over the years that have served their property owners well. However, chain link fencing with the black vinyl coating is a game changer in the chain link fence market. This fencing is a real cut above a traditional galvanized chain link fence because of the protection that the vinyl coating provides the metal and the upscale look it provides to a property. The vinyl coated chain link fence looks great and will save buyers money by extending the life of traditional chain link fencing. It is a really great addition to our fencing products and services and is helping Natural Enclosures to grow our business."
Natural Enclosures Fence Company specializes in residential wooden fencing, chain link fences, ornamental fences and entrance gates. They also provide commercial fencing for businesses and governmental agencies including facility security fencing, venue fencing for locations such as sports fields and automated gates and entrances. Natural Enclosures is located in Stockbridge, GA and can be contacted online at ne-fence.com or by phone at 770-826-6481.
# # #