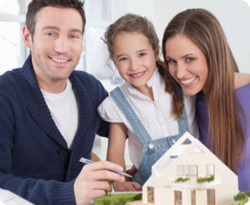 We needed to find a way to capture more leads, earlier, and build up the value of each company so when they did come to our models, we'd have a better chance at selling them
Minneapolis, MN (PRWEB) October 16, 2011
After attending the 2011 National Association of Home Builders (NAHB) International Builders Show (IBS), Rick Storlie had a vision. His vision was for the thousands of home builder and remodelers who find themselves struggling with the changing housing market and new consumer sentiment.
"I wondered what a startup home builder or remodeler would look like today. What would their marketing, advertising and sales process look like? What would they do differently?," asked Storlie.
According to a 2009 NAHB member survey, single-family home builders have been members for 15 years and their average age is 53. 46% of this group does less than 1 million dollars of business volume annually. Another 50% do between 1 million and 15 million annually. Only 4% do more than 15 million annually.
"There's this huge segment of home builders who have lost tremendous volume and market share since 2006. Since it's really difficult to start up a new home building company today, I decided to offer a couple of builders the opportunity to make over their marketing, advertising and sales plans, to mimic what a brand new home builder would do," Storlie commented. "I wanted to create a case study to document what we did, what worked and didn't work plus show the results."
Storlie interviewed several builders and decided to help Hallmark Homes of Utah and NIH Homes of Minnesota with new strategies. He began with each builders market position, or niche offering. Next, he coordinated new websites and advertising tactics. Right now, he's working with each of them to update and automate their sales process.
"When I began looking at how each home builder was generating leads, I found both were relying too heavily on walk-in traffic. The model home foot traffic was sporadic and wasn't the best quality. We needed to find a way to capture more leads, earlier, and build up the value of each company so when they did come to our models, we'd have a better chance at selling them," said Storlie.
Storlie turned to online marketing and built a system each builder could use to capture more leads online, and nurture them into qualified prospects.
"The system we built revolved around 4 ideas. First, we built new websites that were interactive and easy to update. Second, we increased the amount of web visitors. Third, we incorporated lead generation tools to start capturing as many online leads as possible. Fourth, we created a process to get these online leads to the model homes," said Storlie.
On October 20th Hallmark and NIH Homes will be sharing what they did, along with the results in a one hour webinar. The details for registering are below.
4 Cutting Edge Lead Generation Ideas for Today's Home Builders and Remodelers
Thursday October 20th 11 PST, 12 MST, 1 CST, 2 PST
Register here https://www2.gotomeeting.com/register/981210698
Cost: $0 but limited to 100 attendees
Storlie has created a blueprint of the case study for other home builders and remodelers to follow. He calls it The 66 Day Challenge and offers a free trial plus about $320 of bonus materials, just for trying. Any home builder or remodeler can take the challenge by visiting this website http://www.gamedaycoaching.com/.
About Rick Storlie: Rick Storlie of New Home Sales Coach has been helping home builders and remodelers reach their sales goals since 1992. Visit NHSalesCoach.com to download Rick's free e-book "6 Secrets to Maximizing Your Sales in any Market Revealed." Storlie can be reached at 952-895-5566 or Solutions(at)NHSalesCoach(dot)com.
###