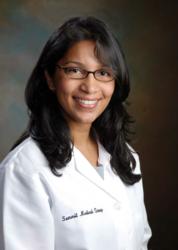 Berkeley Heights, NJ (PRWEB) October 29, 2011
The American Board of Psychiatry and Neurology, Inc., congratulates Komal D. Naik, D.O., neurologist with Summit Medical Group, as a diplomate in Neuromuscular Medicine.
Dr. Naik successfully passed her Initial Certification Examination in Neuromuscular Medicine this summer.
In becoming board certified, Dr. Naik has completed rigorous training and achieved the gold standard in each of the six core competencies of patient care, medical knowledge, interpersonal and communication skills, professionalism, systems-based practice, and practice-based learning and improvement to practice quality specialized medicine. She is also a diplomate of the American Board of Electrodiagnostic Medicine.
The American Board of Psychiatry and Neurology, Inc. (ABPN) is a nonprofit corporation that was founded in 1934 and delivered its first examination in 1953. Designed to identify qualified specialists, the ABPN has been serving the public interest and promoting excellence through its certification process. The ABPN is a Member Board of the American Board of Medical Specialties (ABMS).
About Summit Medical Group
Providing exceptional primary and specialty care since 1929, Summit Medical Group has pioneered information technology advances with its electronic health records and electronic prescribing program. With more than 275 highly qualified healthcare providers, it serves as a unique model of healthcare in New Jersey. Through its nationally recognized award-winning customer service program, Summit Medical Group treats more than 55,000 patients per month at its Berkeley Heights campus and area satellites in Bayonne, Berkeley Heights, Millburn, Shorts Hills, Springfield, New Providence, Warren, and Westfield. NJBiz magazine named Summit Medical Group one of the Fifty Fastest Growing Companies in New Jersey. Summit Medical Group is a member of the American Medical Group Association For more information, visit http://www.summitmedicalgroup.com.
###