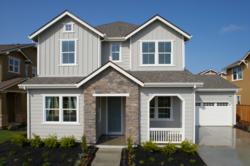 Petaluma, CA (PRWEB) October 14, 2011
Southgate, a Petaluma new homes community by DeNova Homes offers tremendous value to former renters with low maintenance homes that feature spacious floorplans and elegant living areas. The community now has a selection of Move-In Ready Homes available with professional backyard landscaping, window coverings, appliances, and thousands of dollars of upgrades included.
"Our limited time financing enable buyers looking for Petaluma real estate to buy more with their money. For example, a new Petaluma home with a monthly payment as low as $1,296 per month principal and interest* is often less expensive than paying monthly rent." – Lori Sanson, Executive Vice President for DeNova Homes. "Offering homes with incredible financing, added amenities and no monthly HOA fees can put a family's dream home within reach."
Starting from just $399,000, the 3-5 bedroom single family homes at Southgate are built to the highest standards of quality and include a multitude of designer features. Visit a model home today and let the experienced Sales Professionals show you the details that go into every DeNova Home.
Models are open daily from 11 a.m. to 6 p.m. at 1715 Calle Ranchero Dr. in Petaluma. Need immediate assistance? The Online Sales Concierge is available 7 days a week from 9 a.m. to 5 p.m. to answer your questions. You can also reach the Online Concierge at (888) 548-8883 or by Live Chat online at http://www.DenovaAtSouthgate.com.
*Financing based on $399,000 purchase price (including principal and interest) FHA loan 4.7631% with a temporary payment reduction APR 4.7631. Preferred lender FHA 30 Year Fixed @1.25% year one, 2.25% year two 3.25% year 3 and 4.25% years 4-30 4.25% note rate. FHA loan at $388,885 (includes UFMIP) and a minimum fico score of 680. Down payment requirement of 3.5%. Payment shown includes principal and interest only. Taxes, mortgage insurance premium and hazard insurance are in addition to payment shown. Financing programs, prices, specifications, details and features are subject to change without prior notice. Restrictions and qualification apply.
About DeNova Homes
DeNova Homes, Inc. is a respected, family owned homebuilder in Northern California, specializing in all areas of residential construction to meet the needs of renters, first time homebuyers, and move-up single family purchasers alike. DeNova is an award winning, community focused homebuilder with a long tradition of supporting local charities and organizations. For more information visit http://www.DeNovaHomes.com.
About Paradigm Real Estate Solutions
Paradigm Real Estate Solutions, a full service national Real Estate Sales and Marketing firm working with DeNova Homes, is leveraging its proprietary technology platform Marketing Success Portal® to deliver the next generation of real estate solutions for homebuilders, developers and financial institutions. Paradigm Real Estate Solutions' provides market research, proprietary web based technology and internet-centric methods. For more information visit http://www.ParadigmIntel.com.
###