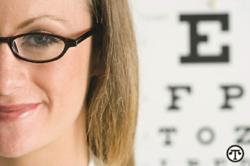 If you're considering LASIK, it's important to know the factors that make you a good candidate for the procedure.
Dallas, TX (PRWEB) October 18, 2011
LASIK – the popular vision correction procedure – can transform lives, freeing people from the inconvenience of eyeglasses or contact lenses and allowing them to pursue active lives. In some cases it's even the path to a rewarding career. Military pilots, Navy SEALs and NASA astronauts have all used LASIK to improve their eyesight and fly or fight for our country.
But, the American Refractive Surgery Council notes LASIK isn't for everyone.
"If you're considering LASIK, it's important to know the factors that might make you a good candidate, or may prevent you from undergoing the procedure," says Eric D. Donnenfeld, M.D., F.A.C.S. "On average, 20-25 percent of people are ineligible for LASIK."
Dr. Donnenfeld says these factors mark a good candidate:

Healthy cornea. "LASIK uses a laser to reshape the cornea. It is important the cornea is healthy, well-shaped and thick enough to reshape it predictably and reliably. This can be established during a thorough diagnostic evaluation of the eye."
Healthy eyes. "Eye diseases like cataracts and glaucoma can prevent us from performing LASIK and many other forms of eye surgery."
Stable vision. "LASIK improves vision by changing the shape of the cornea. If a patient's vision prescription has changed over the past year, then the cornea can't be reliably measured. Standard of care recommends waiting until the patient's prescription stabilizes."
General good health. "LASIK is surgery, It makes sense that a patient should be in overall good health as a foundation to a successful outcome."
Realistic expectations. "LASIK has an excellent reputation for safety and vision. It has become so popular, some patients don't appreciate that it's surgery. There are benefits and risks and a healing process. Being clear about what to expect is an important part of ensuring patients have a good experience with LASIK."
Conversely, Dr. Donnenfeld notes these factors might mean you're better off avoiding LASIK, and instead sticking with contact lenses or eyeglasses:
Thin, irregularly-shaped or damaged corneas. "A thin or irregularly-shaped cornea can be difficult to work with, and may impact LASIK results. These conditions are relatively common. Fully 20 to 25 percent of patients turn out to be ineligible for LASIK because of the condition of their corneas."
Eye diseases. "Certain chronic eye conditions or diseases such as cataracts and glaucoma would likely rule out LASIK."
Dry eyes. "Dry eye can result from several different conditions; long-term contact lens use, certain medications, and even age. Dry eye can be part of the healing process after LASIK surgery. Understandably, patients who have dry eyes to begin with can have a longer recovery, or may never recover completely. While dry eye on its own isn't an absolute reason to avoid LASIK – it's important that the issue is thoroughly discussed by the patient and surgeon when choosing to have the procedure."
A rapidly changing vision prescription. If a patient's vision prescription is changing, it means the shape of the cornea is changing too – making vision correction a moving target. A stable prescription – one that hasn't change in more than a year – is a requirement for LASIK.
Health problems that might interfere with healing. "What's true of LASIK is true of any surgery – it demands a recovery period, and your general health determines how quickly and completely you recover. Conditions that interfere with healing – including diabetes, rheumatoid arthritis and other immune system disorders – often will rule out LASIK. Again, none of these conditions absolutely rules out LASIK, but the surgeon needs to be aware of them as a factor to consider in making a decision about whether to proceed."
Unrealistic expectations. "People who are disappointed in their LASIK results often had unrealistic expectations about what the procedure can accomplish or what the experience would be like. LASIK can produce wonderful results but, like contacts or eyeglasses, it may not do everything you want. There are potential, albeit rare, side effects including dry eye, glare and halos. LASIK is a physical process that uses your eyes as a starting point and works within their limitations. For that reason, too, LASIK patients may still need glasses later in life. LASIK doesn't keep your eye from changing with age, and over time we all lose some ability to focus in close and therefore need eyeglasses for reading."
There's no substitute for a thorough discussion with your LASIK surgeon, Dr. Donnenfeld says. "I can't emphasize this enough – LASIK surgeons need to conduct a thorough screening and patients need to understand the surgery, what it can and can't accomplish, and what the experience will be like. There are good resources available that can help patients understand LASIK."
###