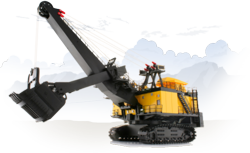 Edmonton, Alberta (PRWEB) October 17, 2011
As a leading supplier of mining wear parts to the international community, Boundary Equipment will be showcasing its state-of-the-art engineering capability to manufacture mining replacement parts, equal to or in most cases better than OEM. Boundary Equipment does this for P&H, Bucyrus Erie, Hitachi, Komatsu, O&K, and Demag mining shovels and drills as applicable. Boundary encourages booth visitors to inquire about their other products, including smelter and processing plant products, particularly its ladle manufacturing and feeder pan manufacturing capabilities. Also, Boundary carries other products that enhance operational safety and efficiency such as Posikeepers™ hydraulic steps, magna drive couplings, recyclable drive tumblers and cast or forged inserts.
Expomineria attendees should visit the Boundary Equipment booth to discuss challenging mining wear parts needs, whether they are technical, quality, or delivery based. Boundary will be highlighting how their technical and design improvements reduce operating costs. In the pit or at the plant, there is no mining wear parts need that cannot be tackled by the Boundary Equipment team.
Boundary is constantly looking to expand its qualified dealer network. For companies who specialize in wear parts, there will be people on hand at the Boundary Equipment booth to discuss and consider membership in the dealer network.
Join the over 5,000 conference delegates from October 26, 2011 to October 29, 2011 and visit Boundary Equipment and AMSU de Mexico at stand #1115. Anyone with wear parts needs who would like to discuss those needs in detail in Acapulco, are encouraged to send Boundary an e-mail with details today.
About Boundary Equipment:
Since 1980 Boundary Equipment has been supplying industrial and mining wear parts for customers worldwide. Their ability to manufacture equipment replacement parts of all sizes and of all chemical and mechanical specifications has contributed to continued success. Boundary has developed contractual arrangements with the world's leading foundries, and collaborates with them to ensure their customers get the best products from a superior supply chain.
###