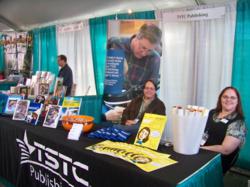 Expect the tents to be packed with people, eager to grab a book.
Waco, Texas (PRWEB) October 20, 2011
October signals the annual Texas Book Festival, Oct. 22-23 in Austin. This is TSTC Publishing's fourth year to exhibit.
This year's newest additions will be The RV Centennial Cookbook by Evada Cooper; Upgrade to Free: The Best Free & Low-Cost Online Tools & Apps by Beth Zisenis and Cotton Bales, Goatmen & Witches: Legends from the Heart of Texas by Bradley T. Turner with Photographer Mark Burdine.
TSTC Publishing will host Booth 216 off Colorado Street between 11th and 12th streets at the State Capitol in Austin. The event with more than 600 exhibitors draws thousands each year to the Capitol grounds.
The Texas Book Festival is free and open to the public. This year's guests include Paula Deen about her Paula Deen's Southern Cooking Bible. Deen will be onstage at the Paramount to discuss Bible with Hugh Acheson from 10-10:45a.m. Sunday, Oct. 23.
Also on tap is Alex Prud'homme, great-nephew of Julia Child and author of The Ripple Effect: The Fate of Fresh Water in the Twenty-First Century. He will speak from 3-3:45 p.m., Saturday, Oct. 22, in the C-SPAN/Book TV tent.
"We always have a good time at the Texas Book Festival," said Publisher Mark Long. "Everything is outside, informal. Expect the tents to be packed with people, eager to grab a book. Don't forget to come by Booth 216 and get a free calendar."
Established in 2004 as the publishing arm of the Texas State Technical College System, TSTC Publishing offers faculty throughout the country the opportunity to initiate and participate in a variety of book development projects. TSTC Publishing projects now include such ancillary products as instructor guides, student workbooks, CD-ROMs, DVDs, ebooks and companion websites. In addition to offering editorial help and guidance to faculty, assistance also is available in the areas of materials, production, distribution and sales.
Visit TSTC Publishing on the Web at http://publishing.tstc.edu.
# # #