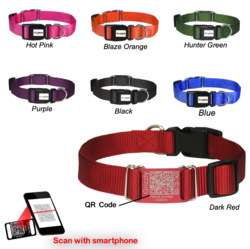 We're software geeks who love figuring out how to use software technology to protect our four-legged furry kids...
Fargo, ND (PRWEB) October 17, 2011
dogIDs, a leading provider of personalized designer dog collars, custom dog tags, dog beds and dog leashes, today announced its partnership with PetHub, Inc., the Internet software leader specializing in easy-to-use pet safety technology.
With PetHub's SmartLink™ Pet ID tags – quick response code (QR code) technology engraved on dogIDs' tags and accessories – more lost pets can bypass the shelter system and return home faster. Anyone with a smartphone or simple Internet connection can access the pet's vital information via the engraved QR code and send an instant message to the pet parent with an easy scan or click. This week, PetHub added GPS capabilities to its QR code technology, enabling owners to know exactly where their lost pet is when someone scans the QR code on the dogs collar.
"We're incredibly excited to not only help increase awareness about PetHub's QR code technology, but also to help increase the size of the PetHub network through this partnership," said Clint Howitz, pack leader and president of dogIDs. "The result is more pets with up-to-date, current information, and that's what dogIDs is all about. The addition of GPS capabilities to the QR code technology is simply extraordinary. We're thrilled to be a part of it."
The QR code points to a free, secure, membership-for-life profile page on PetHub.com where owner contact information can be listed as well as emergency contacts, medication information, dietary needs and more. Because owners have unlimited access to the free profile page, important information (such as a change in medical information) can be updated quickly – and at any time – without changing the pet's ID tag.
"We're software geeks who love figuring out how to use software technology to protect our four-legged furry kids, and dogIDs is unmatched in the production of high-quality pet accessories," said Tom Arnold, CEO of PetHub, Inc. "We each get to focus on our passions, and it's the animals that reap the benefits."
The concept for PetHub was inspired by startling statistics: every pet has a one in three chance of being lost during its lifetime. Up to eight million of those lost animals arrive in shelters every year. Only 12 percent of lost dogs find their way home to their families. To view the QR code collars and tags available through dogIDs.com, visit http://www.dogIDs.com and search "qr code".
About dogIDs
Since 1999, dogIDs has been producing personalized dog collars, custom dog tags and unique pet ID tags. In addition to its wide selection of handmade designer dog tags, the company also offers other distinctive dog accessories, including custom leather dog collars, embroidered dog collars, designer dog collars, dog leashes, dog harnesses, dog apparel, dog beds, dog safety and health products, electronic bark collars, electronic dog training collars and many more high-quality accessories for dogs. Visit http://www.dogIDs.com for more information.
# # #