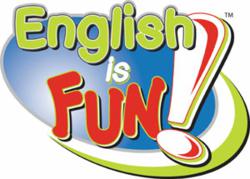 Who knew teenagers would have so much fun in an English class!
Toronto, Ontario (PRWEB) October 18, 2011
Games and interactive exercises are commonly used in the language classroom as an engaging way to practice and review. Gone are the days when language classes were taken up by extensive listen and repeat drills and seat work. Today's teachers often need to cajole and entertain to keep students interested. Recently a team of Toronto based ESL teachers met the challenge, and last week ESL Shop launched an amazingly fun and interactive board game that took over five years to develop and test in world markets. This game, adeptly called "English is Fun!" is sure to generate maximum participation and enthusiasm in any ESL class.
Designed to practice all the skills of English, this exciting new language learning tool combines the elements of many favorite games using print, audio, and video. Hundreds of interesting and challenging questions presented in a colorful card format test players knowledge in three categories: Express Yourself (Expressions and Idioms); Give Me Grammar (Tenses, Sentence Structure etc.); and what's the Word (Vocabulary). On DVD, lively segments present the categories Look and Listen (video clips of people conversing in English followed by questions); Spell It Out (players hear a word and have to spell it out on a notepad); and Everyone Play (all players compete to answer questions from three different categories).
All categories of this great new game encourage fun competition and even native speakers will enjoy being the first to make it around the colorful playing board to win a round of 'English is Fun'.
English is Fun was launched at ESL Shop in Toronto on October 6th to an audience of very enthusiastic ESL teachers from junior high schools, high schools, private language schools, and community colleges. A perfect learning tool for any English Language Classroom, English Is Fun is sure to enhance your students' joy of learning English. This well thought out new game is currently being distributed at ESL Shop and will be available nationwide shortly. Please call 1-855-375-7467 or visit http://www.ESLShopOnline.com to order your copy now.
###