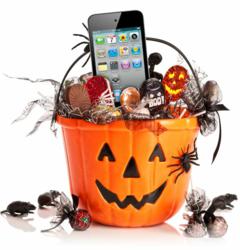 Hudson, WI (PRWEB) October 17, 2011
"It's so cheap it's like you're giving it away!" is a phrase that the team at Docucopies.com hears often. Their prices on discount color copies and printing services are so far below the industry standard, many customers are shocked when they first come to their website and expect there's some sort of "trick." But in this case, the company literally is giving a treat away for free.
For the second time this year, Docucopies.com is awarding a brand new 8-gigabyte iPod Touch to a random sweepstakes participant at the end of the month. But why twice in one year, and why the same prize?
"When we ordered the iPod for the July giveaway, the vendor took too long to process and ship the item," says Roe Pressley, a member of the company's social-networking team. "After over a week with no change in the status, we politely emailed them to cancel the order and refund the price while we placed an order with another company. Apparently they don't check their emails regularly, because a few days later both iPods arrived."
Rather than open up a case with the company and jump through bureaucratic hoops for a simple item return, they decided to just hold on to the second device for a future promotion.
To enter to win the iPod for the Docucopies Halloween Giveaway Sweepstakes, participants need only follow a few simple steps on the website. Having a Facebook account and registering with Docucopies.com are the only pre-requirements. The drawing will take place at noon central standard time on October 31. Participants have until then to enter, and there is only one signup allowed per person.
To enter, visit http://www.docucopies.com/giveaway_signup.asp and follow the directions on the screen. For more information about Docucopies.com and their cheap color copies, visit http://www.Docucopies.com, Like them on Facebook, or Follow them on Twitter.
###