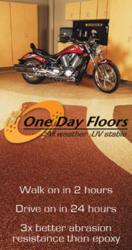 Learn about the One Day Floor system from the industry's best installers.
-Coyne Edmison
Oklahoma City, OK (PRWEB) October 16, 2011
One Day Floors, an entity of The Stamp Store, will be holding a training session on October 21, 2011, for construction professionals who want to learn quick-dry floor coating installation techniques. This class will cover the importance of floor preparation and proper selection of the One Day Floor systems to meet specific job conditions.
Participants will also learn One Day Floor's Moisture Mitigating system and how it reduces vapor transmission of more than 10 pounds to less than two pounds. The price of this course is $295. Call 888-848-0059 to register.
About One Day Floors:
One Day Floors integrates the latest advances in polyaspartic coating technology for durable, long-lasting industrial and commercial flooring applications.
This innovative, clear floor coating requires only an hour or less dry time, and is utilized mostly in commercial settings; it can also be used in residential garages and industrial spaces where quick return to service is required. This polyaspartic coating allows for quick floor installations in every weather condition, delivers a high level of abrasion, and is chemical resistance. Application of the One Day Floor system does not require jobsite mixing; thus, quickens the process and minimizes inventory.
One Day Floors is part of The Stamp Store located in Oklahoma City. The Stamp Store is a decorative concrete supply company that also offers training and seminars for contractors and construction professionals.
###