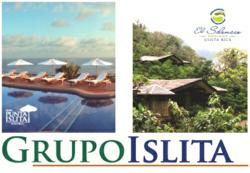 "Grupo Islita is excited to exemplify Costa Rica's commitment to excellence and green leadership. We are proud to showcase the best of our nation's bewildering attractions through superb services and sustainability initiatives." -Gustavo Segura, Director
San Jose, Costa Rica (PRWEB) October 20, 2011
Grupo Islita's two upscale properties, Hotel Punta Islita and El Silencio Lodge & Spa have been voted among the ten favorite Central & South American resorts in Condé Nast Traveler's Readers' Choice Awards 2011.
With this accolade, Hotel Punta Islita achieves a "stellar sixth", recognized as one of the best in its category for six consecutive years. El Silencio Lodge & Spa makes its debut on the listing, fulfilling the high expectations set forth by its designation in Condé Nast Traveler's Hot List as one of the most promising new properties of 2008. The Condé Nast Traveler's Readers' Choice Awards are among the most prestigious in the global tourism industry because they represent the independent opinion of close to 30,000 experienced travelers.
The publication of Condé Nast Traveler's Readers' Choice Awards was closely followed by the announcement of Hotel Punta Islita as a 5 Leaf property in Costa Rica's Certification for Sustainable Tourism program (CST), an initiative championed by the Costa Rican Tourism Board (ICT). Hotel Punta Islita thus joins its sister property, El Silencio Lodge & Spa, in achieving the maximum level sustainability certification in Costa Rica. The CST certification is a globally-respected tool to rate, monitor, and guide the country's tourism industry. Its rigorous evaluation process contemplates water management, energy conservation, proper waste disposal and recycling, positive relations with surrounding communities, cultural authenticity, and safety.
Grupo Islita's Director, Mr. Gustavo Segura celebrated the double good news stating: "Grupo Islita is excited to exemplify Costa Rica's commitment to excellence and green leadership. We are thankful for the recognitions earned by our properties and pledge to continue showcasing the best of our nation's bewildering attractions through superb services and successful sustainability initiatives."
Grupo Islita is a leading Costa Rican luxury hotel development and management company. Its signature commitment to corporate social responsibility fosters cultural authenticity, economic opportunity, and environmental welfare.
Hotel Punta Islita is a secluded Costa Rican beach resort set along the Nicoya Peninsula's open-ocean coastline. Inaugurated in 1994, it is globally recognized for its award-winning responsible tourism program emphasizing community development programs through art, entrepreneurship, and education.
Inaugurated in 2008, El Silencio Lodge & Spa is a sixteen-suite natural immersion eco-destination. Embedded in a 500 acre private cloud forest reserve, it is flanked by two national parks in Costa Rica's central volcanic valley.
###