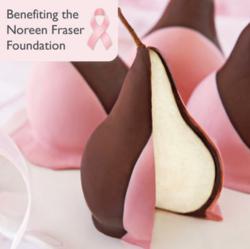 Send luxury to a loved one with Harry & David's famous chocolate truffles, signature Moose Munch® and hand dipped chocolate comice pears.
Medford, Oregon (PRWEB) October 18, 2011
Harry & David, America's gift experts for over 75 years, delectable chocolate gifts, including our famous chocolate truffles, signature Moose Munch® and hand dipped chocolate comice pears. Celebrate National Chocolate Day on October 28 with the perfect chocolate gift from Harry & David.
Delicious chocolates are always a perfect gift, but what would be more appropriate on National Chocolate Day? Send luxury to a loved one with the Deluxe Tower of Chocolates Gift, filled with delicious chocolate treats, including chocolates, Harry & David's famous truffles, chocolate cake, Moose Munch® snack and more. With a different chocolate treat in each box, it's the perfect gift for a chocoholic!
Discover the perfect harmony of our signature comice pears and high quality chocolate, made here in our own candy kitchen. This new product comes in a variety of options and will be sure to satisfy any sweet tooth. Choose to have these luscious pears dipped in dark, milk or white chocolate. Better yet, have it all with our Hand Dipped Chocolate Pears Assortment. Deliciously decorated pears dipped in chocolate — it doesn't get much better, even for the most discerning palate.
Celebrate both National Chocolate Day and Breast Cancer Awareness Month with our limited edition Pink Hand-Dipped Chocolate Pears. This special gift is offered on a limited time basis during the month of October and 20% of net proceeds will go directly to the Noreen Fraser Foundation for cancer research. The perfect pairing of delicious and thoughtful comes packaged in this tasteful gift.
Harry & David's selection of National Chocolate Day gifts doesn't stop here. Browse through pages of chocolate baskets and treats on the Harry & David website to find chocolate gifts for everyone.
To ensure timely arrival of all Chocolate Day gifts, order before the shipping cut-off dates. The last day to order using regular shipping is October 21th; the last day for 3-day express is October 24th, and the last day for next day delivery is October 26th.
All orders are backed by a 100% guarantee. If those who receive our chocolate gifts are not fully satisfied, Harry & David will provide either an appropriate replacement or a full refund. Visit http://www.harryanddavid.com for more information.
For the latest deals and specials from Harry & David, join our Facebook fan page, Facebook.com/HarryandDavid.
Harry & David is a leading lifestyle and gourmet gift company that brings joy and celebration to the way people connect, work and play. With a 75-year reputation for genuine farm-to-table freshness and unsurpassed artisanal quality, Harry & David is legendary for products such as the Fruit-of-the-Month Club® gifts, featuring top-quality fruit, pampered on the tree, picked at its peak; Royal Riviera® Pears, prized for their lush juiciness, melting texture and exquisite flavor; Oregold® Peaches, the biggest, juiciest, sweetest-tasting peaches; and Moose Munch® gourmet caramel popcorn made exclusively in our own confectionery in flavors for everyone, from Milk Chocolate and White Chocolate Macadamia Nut to S'Mores. The Harry and David catalog offers a wide variety of gift baskets, fresh fruit gifts, gourmet treats, chocolate gifts and business gifts for every occasion. Gifts from Harry & David, and its brands Cushman's and Wolferman's, are designed for festive occasions, entertaining and self enjoyment throughout the year. Through its stores, catalogs, websites and select retail partners, Harry & David offers an affordable "best-of-class" experience as part of everyday life. Happiness Delivered! http://www.harryanddavid.com
(Harry & David is a trademark, service mark and DBA of Harry and David)
###