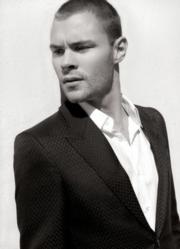 "It was always our intention to stay true to Poe," says Director John La Tier. "We want this film to be something he would be proud of, and I believe this captivating script, combined with this cast and art direction, is going to be just that."
New Orleans, LA (PRWEB) October 15, 2011
Popart Film Factory & Leverage Entertainment are pleased to announce Patrick John Flueger, Rose McGowan and Peter Bogdanovich will star in the upcoming feature film adaptation of Edgar Allan Poe's "The Tell Tale Heart." Production on the literary thriller begins Oct. 20 and will take place in New Orleans, Louisiana.
The lead role in "The Tell-Tale Heart" will be played by Flueger, who also plays Chuck Cranston in Paramount Picture's "Footloose," a remake of the classic American dance film that is being released nationwide this weekend. Flueger was recently seen on the big screen in Jim Sheridan's "Brothers," where he played a supporting role opposite Toby Maguire.
Playing female lead is actress McGowan, who is known for her roles in such films as "Grindhouse," "Scream," "Jawbreaker," "The Black Dahlia" and "The Doom Generation," in addition to her role on the popular series "Charmed."
Rounding out the standout cast is renowned director Bogdanovich. Celebrated for his work as a director for classics including "Paper Moon," "The Last Picture Show," and "What's Up Doc?." Bogdanovich started out training as an actor under the tutelage of the legendary Stella Adler before making a name for himself as one of Hollywood's great filmmakers.
Inspired by Poe's imaginative short story, this independent film brings mystery, romance, and suspense to the literary classic. Producer Daniel Zirilli, who has produced and/or directed more than 250 music videos (for artists from The Rolling Stones to Three 6 Mafia) and 20 feature length films, will be joined by Director John La Tier to bring this story to life.
"It was always our intention to stay true to Poe," says La Tier. "We want this film to be something he would be proud of, and I believe this captivating script, combined with this cast and art direction, is going to be just that."
Patrick John Flueger is represented by UTA & Nancy Kremer Management, Rose McGowan by The Gersh Agency & MPE, Peter Bogdanovich by Abrams Artists Agency & MPE, and Daniel Zirilli is managed by Zero Gravity.
###