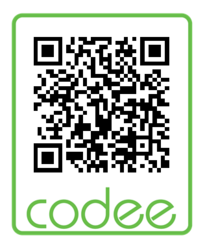 Las Vegas NV (PRWEB) October 14, 2011
The Las Vegas Motor Speedway will come alive on Sunday, when Tony Hawk says "Drivers start your engines." After 300 miles of intense, fast racing, the IZOD IndyCar Championship will be crowned. This year, spectators at the Indycar championship race will have the opportunity to participate in the first ever QR code based live action update. Codee Software Inc, http://www.codee.com, located in Las Vegas, will distribute QR codes to attendees as they enter the venue as well as distribute them online. A race car enthusiast will be able and get live updates of the race and reports from around the track and the pit area. Also the fans will be able connect with thousands of other spectators at the event and can also leave live comments of the race using the codee QR social wall feature. The fans will feel closer to the action than ever before. For those not attending the race but who want to get live updates, just go to the codee.com web site and scan the IndyCar QR code.
The winner of the IZOD INDYCAR Championship will be decided at the finish of the race. Two-time defending IZOD IndyCar Series champion Dario Franchitti leads Will Power by 18 points in the series. Can Power win his first title, or will Franchitti celebrate another title in Las Vegas?
The Las Vegas race will also mark the final race for Danica Patrick, the only woman to win an IndyCar Series race, and the benchmark for female racers. Danica topped the speed chart with a quick practice lap of 224.719 mph on the 1.5-mile oval. "It's friggin' fast here, Nothing would let me turn the page better than winning here. The track is nice and smooth and we'll be three-wide out there, which will be exciting," said Patrick, driving the No. 7 Team GoDaddy car.
In addition to the championship, Dan Weldon will try to hit the jackpot for both himself and a lucky fan in The Go Daddy IndyCar Challenge. Should Wheldon win the race, he and the fan will share the $5 million dollar prize. Also celebrities from the worlds of entertainment and sports including, NFL Hall of Famers Warren Moon, Michael Irvin and Marshall Faulk, will join the stars of the IZOD INDYCAR Series in raising money for two charities.
Get involved in all the excitement during the final IndyCar Championship where ever you are, just scan the codee QR http://www.codee.com and participate in the first ever live update using QR code technology.
# # #