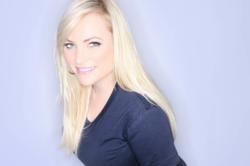 "United, we hope to send a positive message to young women that beauty comes in all colors, shapes, and sizes. This is an issue everyone should agree on regardless of your political affiliation." - Chenese Lewis, president, Hollywood NOW
Los Angeles, CA (PRWEB) October 17, 2011
Meghan McCain, the daughter of Republican Senator John McCain, weekly columnist for the Daily Beast, and New York Times bestselling author is set to host Hollywood NOW's Love Your Body Day in West Hollywood. Love Your Body Day is an annual event where women of all sizes come together to celebrate a day of self-acceptance to promote positive body image. The celebration has expanded to a weekend full of events, which includes a launch party, festival, and body image panel discussions. The Love Your Body community celebration will unfold October 21-23, 2011.
Meghan McCain is a very accomplished women who despite her many accomplishments keeps getting verbally attacked about her curvy frame in the media. In 2009 Laura Ingraham mocked McCain, on her radio show, using a Valley Girl voice and calling her a plus-sized model. Just as Tyra Banks told her critics for being ridiculed about her weight, McCain told "The View" hosts that those making her weight a matter of national news can, simply put: "Kiss my fat a**!" Most recently in May 2011, Glenn Beck on his radio show thought it would be funny if he pretended to be vomiting as he watched a public service ad featuring a "naked" Meghan McCain, also suggested that she should instead be wearing a burqa, launching a vicious fat hating tirade about her body.
Last year's celebrity host for Hollywood NOW's Love Your Body Day, America's Next Top Model Whitney Thompson, posed nude with Chenese Lewis, the event's creator and Hollywood NOW president . Both women proudly flaunted their curves in the nude with confidence to show by example that women should love the skin they're in. McCain saw the Love Your Body campaign which made international news, and inspired by the photo wanted to be involved.
"I think Meghan McCain is a great host for our Love Your Body Day celebration because despite her many verbal attacks about her curvy frame in the media, she remains unapologetic and true to herself. We are both fed up with our society's obsession with thinness and unrealistic standard of beauty," said Chenese Lewis, president, Hollywood NOW. "United, we hope to send a positive message to young women that beauty comes in all colors, shapes, and sizes. This is an issue everyone should agree on regardless of your political affiliation."
The 2011 Hollywood NOW Love Your Body Day schedule of events are as followed:
Lane Bryant, a sponsor of the event, will host the launch party on Friday, October 21st from 6 to 9 p.m., shoppers are invited to Lane Bryant's Westfield Culver City store (6000 Sepulveda Blvd, at the intersection of Slauson and Sepulveda in Culver City, Calif.) for an evening of fashion and 30% off all in-store items while sipping signature "Lanetini" cocktails and dancing to the beats of a live deejay. Lane Bryant will give away a $500 gift card to one lucky winner in honor of Love Your Body Day.
Meghan McCain will host the festival which will take place Saturday, October 22rd at West Hollywood Park Auditorium, from 12-4 pm. Admission is free. West Hollywood Auditorium is located at 647 N. San Vicente in West Hollywood. The community event will include performances by various singers and dancers of all ages. A "Body Image in the Media" Panel Discussion featuring Meghan McCain, supermodel Tomiko Frasier, and a host of others will be broadcast on City Channel 10 in West Hollywood and be available on demand at http://www.weho.org. The pinnacle of the festivities is the "real women" fashion show where models with curves will be flaunting the styles of various designers and retailers.
Sunday, October 23rd from 2 to 5pm, "Beyond Beauty and Body Image" Panel Discussion and Reception will take place at the Great Hall at Plummer Park. The Great Hall is located at 7377 Santa Monica Blvd. in West Hollywood. Top bloggers and social media experts will discuss the broader social and political consequences of our image driven culture, such as bullying, racism, sexism, and homophobia. Admission is free.
For more information about Hollywood NOW Love Your Body Day, including a schedule of events, and complete list of panelists visit http://www.loveyourbodyday.com
About Meghan McCain
Meghan McCain writes a weekly column for the website/blog THE DAILY BEAST. Prior to joining THE DAILY BEAST McCain worked on her father's 2008 Presidential campaign where she created the website McCainblogette.com which provided a very personal inside look at daily life on the campaign trail. Over the course of 2 years, she traveled with her father to every one of the 48 continental United States. McCain has previously written for Newsweek Magazine and during college worked at Saturday Night Live. She is a New York Times best selling author of "My Father: John McCain" and "Dirty, Sexy Politics". McCain is a 2007 graduate of Columbia University.
About Hollywood NOW
Hollywood NOW is a local chapter of the National Organization for Women. The National Organization for Women (NOW) is the largest organization of feminist activists in the United States. NOW has 500,000 contributing members and 550 chapters in all 50 states and the District of Columbia. Since its founding in 1966, NOW's goal has been to take action to bring about equality for all women. NOW works to eliminate discrimination and harassment in the workplace, schools, the justice system, and all other sectors of society; secure abortion, birth control and reproductive rights for all women; end all forms of violence against women; eradicate racism, sexism and homophobia; and promote equality and justice in our society.
http://www.loveyourbodyday.com
http://mccainblogette.com
http://www.cheneselewis.com
###