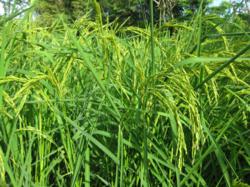 Apart from joining in the rice harvest, guests can also feed the resort's giant fish and Thai cows, pick fruit and learn about Thai cooking with fresh herbs
Chanthaburi, Thailand (PRWEB) October 17, 2011
To help guard the "pregnant" and the young rice at the organic gardens of Faasai Resort and Spa guests will help to build scarecrows to keep away the birds. The scarecrow-making weekend will be on October 22nd as the rice has recently become "pregnant" – a Thai way of explaining it is swollen with grain.
The rice paddy is located in the resort's wildlife sanctuary, White Water Lake, where there are thousands of birds, including spotted doves and other small birds that love rice. Scarecrows are a natural and traditional way of discouraging birds from eating the grains without doing them any harm. It will take about a month for the rice to ripen and guests will also be invited to take part in the rice harvest which is expected to be in early December.
This is the first year the resort has grown rice, and it has two rice paddies where it is growing Thailand's famous fragrant jasmine rice, called "hom mali" in Thai. The rice paddies are set amidst banana and fruit trees, which are inter-planted with herbs and chillies, a traditional way of farming in Thailand.
The owner of the resort Surin Laopha, who developed the resort and farm with his New Zealand born wife Bronwen Evans grew up in a rice farming village in the Northeast of Thailand, and he says this type of farming system provides an abundance of food and a balance of nature.
"The rice paddies help to keep the other plants cool and well-nourished, while the fishes and frogs that live in the water help to keep the insects at bay. My father and I used to hunt the frogs to help feed the family and at harvest time we would catch and eat the fish and have a party"
Surin has very happy memories of the rice harvest when he was growing up, as all the local families would help each other and he would sleep out under the stars with the other village boys. With the first crop of Faasai Resort and Spa looking to be of excellent quality, he plans to extend the rice paddies to include other kinds of rice next year including another famous rice variety – sticky rice.
"When I was growing up, rice was much more fragrant and delicious than it is today, Surin said. "We would like our guests to try our organic rice, which is bound to taste better than the shop-bought varieties and to also learn about some of the cultural traditions of Thailand."
The award-winning resort planted the rice as a way of enriching the holiday experience for guests wanting to participate in the local way of life. The world's largest rice producer, Thailand has been cultivating rice for at least five thousand years, so it is very much part of the Thai culture. Apart from joining in the rice harvest, guests can also feed the resort's giant fish and Thai cows, pick fruit and learn about Thai cooking with fresh herbs.
The organic farm, which supplies the resort with bananas, papayas, lemongrass and other fruits, vegetables and herbs, including famous tropical fruits of Chanthaburi such as mangosteen, is managed in the traditional way of integrated Asian farming, with mixed crops and aquaculture. As with other permaculture systems, no artificial chemicals and fertilisers are used, instead it uses a balance of nature as well as a system of effective micro-organisms (EM) to help build fertile soil and create a healthy eco system.
About Faasai Resort and Spa
Faasai Resort and Spa is a 14 room eco-resort at Kung Wiman, Chanthaburi, Thailand about 200 kilometres southeast of Bangkok. The resort is nestled into a forest covered hill amidst three acres of tropical gardens, overlooking the mangrove-fringed Kung Kraben Bay and is a ten minute walk from Kung Wiman beach. http://www.faasai.com.
Awards won by Faasai Resort and Spa

Outstanding service to the environment and nature in the Eastern region – Thailand Boutique Awards 2010
Best Small Hotel in Thailand – TAT Green Awards 2009. "The Green Awards are a symbol of TAT's thanks to outstanding quality and reliable tourism products offered by hoteliers and tour operators" - Joanna Cooke, Marketing Manager for TAT UK.
Responsible Tourism award –Faasai Resort & Spa was runner-up in the budget category in the 2008 Wild Asia Responsible Tourism Awards. The judges awarded the resort a score of 96% for its sustainable practices.
###