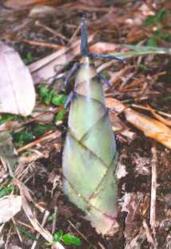 Edible Bamboo @ Olericulture.org
(PRWEB) October 16, 2011
The Vegetable Magazine Olericulture.org has newly included 62 resources to its bamboo category. While mature culms of bamboo are used as timber, bamboo can also be grown as an olericultural crop for their young and immature shoots which are consumed as a fresh or preserved vegetable.
Olericulture is the science and technology of cultivating and producing vegetables and within this scientific area, Olericulture.org provides a wide range of resources related to traditional, temperate and oftentimes indigenous, tropical vegetables.
Over 70 genera of bamboo (Bambusoideae, Poaceae) with over 1,200 species occur in forests and plantations, covering an area of more than 14 million ha worldwide mostly confined to South and Southeast Asia. China, with the largest bamboo industry worldwide, has a total of about 7 million ha of bamboo forest. Of these, over 30% is covered by the world's single most important bamboo species, Phyllostachys pubescens. The area under bamboo in India has been estimated at between 3 and 10 million ha and that in Myanmar at 2.2 million ha. Besides timber and some minor other uses, edible shoots are one major product from bamboo.
The Olericultural Crops Category of Olericulture.org currently contains 21 vegetables. Each of these sections is subdivided into a general and a research category. The general bamboo section provides information about the aspects of cultivation of bamboo for edible shoots including cultivation, pests and diseases, harvest, postharvest, storage and marketing. The homepage of the American Bamboo Society (ABS) which features information on 486 species and 5,269 bamboo photos is the most popular resource in this category.
The research categories contain scientific information and links to peer-reviewed papers, journal articles, theses, books, abstracts, and other scholarly literature on the individual vegetables. The page on "Determination of total cyanide in bamboo shoots" published by the Australian National University (ANU) in Canberra is currently the most popular page in the Research category of Bamboo, followed by a webpage on the bamboo genera Phyllostachys published by University of Florida's Institute of Food and Agricultural Sciences US/IFAS.
Olericulture.org was launched in 1996 and has emerged as a comprehensive aggregator of websites and science references in the applied life science olericulture. The site is now under new management and has just been republished.
Users who wish to submit their own or their company's website for inclusion in Olericulture.org are welcome to submit their listing through the site. Furthermore, the site maintains a number of RSS feeds which enables users to subscribe to their most favorite topics within the site. For better public exposure Olericulture.org also maintains and continuously updates the Twitter account @Olericulture.
# # #