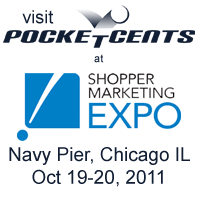 There are powerful low-cost alternatives available in the world of online advertising.
Shelby Township, Michigan (PRWEB) October 17, 2011
Pioneers in the field of flat-rate local online advertising, PocketCents has been pulling out all the stops in preparation for this week's Shopper Marketing Expo in Chicago. Tailored directly for local marketers, PocketCents has unveiled a new local coupon advertising solution to encourage in-store sales and hyper-local premium mobile advertising with GPS accuracy targeting shoppers. Combined with the ideology of flat-rate pricing, PocketCents has pronounced once again that there are powerful low-cost alternatives available in the world of online advertising.
Printable local coupons have been introduced based on a need for store owners to encourage in-store interaction. These coupon offers can contain an address and even a map, this digital take on traditional coupon advertising has become a leading budget saver for retailers just in time for the holidays. To further encourage in-store user engagement, PocketCents has started rolling out premium mobile advertising on the network. Using the global positioning services available on today's mobile devices, PocketCents has been able to refine their precision to target shoppers as they are engaging in social activities. Together, these two new products should be well received by the Shopper Marketing Expo attendees, many of whom will be seeking advertising solutions in the coming months.
About PocketCents:
PocketCents, Inc. (http://www.pocketcents.com) is a Local Online Advertising Network specializing in promoting small and local businesses through pay-per-click targeted advertising banners on websites and mobile devices. The PocketCents network has publishers in the U.S. and around the world displaying more than 3 million ads per day. Advertising media types include traditional banner advertisements, local coupon advertising, pop-up local video ads, and now premium mobile advertising.
###