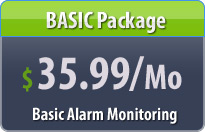 $1 A Day Keeps An Intruder Away
(PRWEB) October 16, 2011
Your Alarm Now announces the launch of the basic package of their home security systems. Your alarm now provides home security using a vast collection of security systems. To give consumers what they need at the most valuable cost possible, they have studied and have put together an affordable plan that costs $35.99 a month to keep families and valuable properties safe.
The plan is called basic alarm monitoring which provides security through the use of standard line telephones. Basic alarm monitoring system allows transmission of signals through landlines telephones to a specific ADT monitoring station.
Mr. Paul Shakuri, owner of your alarm now said, "For us to be able to meet our customers' needs we have formulated different plans that will suit them and one of the plans we have studied and created is the basic alarm monitoring system." According to him, this kind of plan is suitable for those who are in a tight budget still wanting to protect their families and properties in emergency situations.
The launch was held at Phoenix, Arizona and was witnessed by hundreds of different people who were interested in the new plan offered by your alarm now. "This is a plan I would definitely grab, I need this for my family's safety and I guess it is quite affordable, I need to budget well, so I think this is a great catch," said one customer who attended the basic alarm monitoring launch.
Your alarm now plans to continue research and studies on different plans that can be offered to their consumers. The different plan offers will be made to suite clients' individual needs for safety and security.
Your Alarm now is an ADT authorized dealer who has been providing home security systems to service and protect families in CANADA and USA.
To learn more about Your Alarm Now and their services, visit them at http://www.youralarmnow.com/ or call 1-800-599-8452.
Name: Paul Shakuri
Company Name: Elite Security Services
Telephone Number: 800-599-8452
Website: http://www.youralarmnow.com
Email Address: pshak(at)youralarmnow(dot)com
###