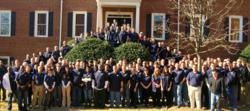 "Send many employees to different classes through the remainder of 2011 to improve knowledge on many subjects; this is a great opportunity," said Rich Rodgers, Pres & CEO
Atlanta, GA (PRWEB) October 17, 2011
CED Solutions is offering the ability to send students each week to technical training courses for a one-time fee of $7,500 for the remainder of 2011. Send different students each week if desired. Limited seats available! Classes may be taken in Atlanta/Ft Lauderdale or attend the same classes live online.
CED Solutions is providing "Guaranteed-To-Run" classes in this promotion that may be taken including: Windows 7, Windows 2008 Server, Cisco CCENT, Cisco CCNA, Cisco ROUTE, Cisco SWITCH, Cisco TSHOOT, Cisco CCNP, A+, Network+, Security+, Oracle 11g, SQL 2008 Database Admin, SQL Database Developer, Microsoft Office Specialist, Certified Ethical Hacking, Computer Forensics, Exchange Server 2010 and Exchange 2010 Messaging.
Payment must be received in advance of any class taken. No other payment methods or discounts apply. Books must be purchased for each class. Offer is good for any one student per week (no overlaps), multiple offers may be purchased. Exams, airfare/lodging not included.
Call (800) 611-1840, or send an email to info(at)cedsolutions(dot)com to arrange your training.
Potential Savings of 67% vs. Individual Enrollment
Over 8 Weeks of Training Available Through 2011
Different Students May Attend Each Week
Choice of In-Person or Live Online Classes
http://www.cedsolutions.com, info(at)cedsolutions(dot)com, (800) 611-1840
###