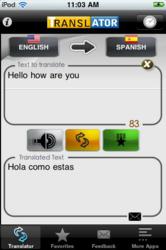 Elk Grove, CA (PRWEB) October 18, 2011
Shoreline Animation's language translation iPhone apps help users switch easily between various languages such as English, German, French, Chinese, Hindi, Italian and Spanish within seconds.
The Spanish Translator Lite is no exception. The travel category app, translates any phrase in English, French, Japanese, German, Dutch and other source languages into Spanish. Besides displaying the translated phrase as text, it also converts the text to speech, delivered as an mp3 file. This new feature was available only in the paid version earlier. Listening to the mp3 file ensures accurate pronunciation along with translation. The app comes with many additional useful features, giving users the ability to bookmark and edit favorite phrases, copy and paste phrases from the app, email phrases and view recent translation history. These features save users time by eliminating the need to retype phrases that have already been translated. This is particularly useful for common phrases and everyday conversation when users are traveling in a foreign country.
"Our users range from travelers traveling to Latin America and Spain to employers who need to communicate with their employees at the workplace. Language translation apps are among the more popular mobile apps due to their practical application in any situation," says a spokesperson from Shoreline Animation.
Besides language translation apps, Shoreline Animation has developed other utility based apps like Flight Tracker to check flight status, Disney World Maps, Guides and Wait Times, Airport Monitor and Daily News Reader. Several of these have been ranking high among mobile apps consistently for months.
Shoreline Animation's web offerings include a website dedicated to free ecards, personalized photo cards and printable cards. Gotfreecards.com has a large selection of free cards and ecards for various occasions and features a number of designs in its free Christmas Ecards library. For more information on Shoreline Animation's apps, please visit http://shorelineanimation.com/
# # #