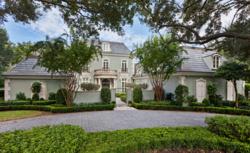 "Our business has increased as savvy homeowners realize an absolute auction reduces time on the market considerably while providing as good or better results than traditional listings," said Grand Estates Auction Company president Stacy Kirk Reich.
Charlotte, N.C. (PRWEB) October 18, 2011
Three exclusive luxury coastal estates in Sea Island, Ga., St. Marys Ga. and Amelia Island, Fla. will be sold via absolute auction by Grand Estates Auction Company in consecutive days, Nov. 1-3, 2011. Absolute auctions require no minimum bid or reserve price - the final price is set by the bidders on auction day. With three properties offering amenities like waterfront living, golf-course views, marsh views, boating, tennis, golf, gourmet dining and so much more, prospective bidders are sure to find what they are looking for in a vacation home, even if they get to live that vacation lifestyle year-round.
Although it may seem a risky proposition with no minimum price guaranteed, absolute auctions are becoming a preferred option for selling luxury real estate due to the expediency and transparency of the process. Rather than spending months or years with a traditional listing playing the offer-counteroffer game where sellers are never certain if the next offer will be closer to the listing price, an absolute auction brings a pool of qualified, interested parties into a competitive auction where the home is sold to the highest bidder on that day. Sellers can be confident that they will receive the best price the market can bear without contingencies or lengthy negotiations. The true market value prevails.
As a buyer, there are benefits as well. A comprehensive due-diligence packet is provided, and ample time is allotted for tours and inspections prior to the auction. Bidding is in an open arena where there is no competitive advantage granted to anyone and the highest bid prevails. Most importantly, the buyer knows the seller is committed to sell the property and timelines for the purchase and closing are established.
According to the National Auctioneers Association, sales of residential real estate at auction grew by more than 47% from 2003 to 2008. In 2010, Grand Estates Auction Company saw a 26% increase in sales volume compared to 2009, at a time when national real estate sales were down 27.9%. These are not properties of owners in distress, rather Grand Estates' clients often own multiple properties and are looking for a lifestyle change or a means of repositioning themselves in the luxury market.
The first auction, taking place on Nov. 1, 2011 at 3:00 p.m. will be of a private Sea Island waterfront estate featuring five bedrooms, seven full baths and two powder rooms. The gated community has something for everyone: world-class golf courses, Sea Island Stables, Yacht Club, Beach Club, The Cloister Spa, tennis, shooting range and five-star dining. Viewing begins Thursday Oct. 27th with a reception at 6:30 p.m. and continues through auction day.
The second auction, on Nov. 2, 2011 at 3:00 p.m. will feature an eight-bedroom St. Marys riverfront retreat situated on more than four acres with 200 feet of deep-water frontage on the Crooked River. A secluded haven, the home is equally well equipped for enjoying the natural surroundings or entertaining large groups at the 3,220-square-foot boathouse with a rooftop deck. Viewing begins Saturday, Oct. 29th at 11:00 a.m. and continues through auction day.
The third auction will take place on Nov. 3rd at 2:00 p.m. offering a four-story retreat overlooking the Amelia Island Plantation Ocean Links Golf Course and featuring abundant outdoor living space with expansive ocean views. Gated community amenities include three professional golf courses, tennis, gourmet dining, spa, salon and shopping. Viewing begins Sunday, Oct. 30th at 1:00 p.m. and continues through auction day.
Homes such as these typically do very well in absolute auctions. In fact, auction prices can at times exceed negotiated sales prices. However, competitive bidding ensures that the buyer is making a smart investment by purchasing at the true market value.
For buyers interested in multiple properties, registration fees can be transferred to the following auctions if desired, providing they are not being utilized as a deposit on a purchase. Provisions for remote bidding can be arranged.
Grand Estates Auction Company is the leader in the niche market of auctioning luxury real estate, specializing in properties ranging from $1.5 million to $10 million.  Established in 1999, the family-owned company was the first of its kind.  The company is based in Charlotte, N.C. with offices in Atlanta, Dallas, Vail, Co., La Jolla, Ca., and Naples, Fla.  For more information visit http://www.GrandEstatesAuction.com.
###