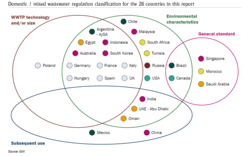 We know that water businesses are searching for a comprehensive tool like this to clarify the huge diversity in regulation, a key factor in developing strategy. Our research study will guide them.
Oxford, UK (PRWEB) October 19, 2011
Regulation is one of the main drivers of the water market because it defines what is permissible - and this ought to set the framework for long-term business development. However, the way forward is still unclear if regulations are not monitored and enforced, which is the current situation in many countries covered by this report.
GWI's Fabiola Alvarado, the report's editor, says the study remedies a dearth of information in this vital area. "Previous studies have focused on certain countries and a few specific aspects of regulations, but none have covered all the aspects contained in this report, or as many countries. We know that water businesses are searching for a comprehensive tool like this to clarify the huge diversity in regulation, a key factor in developing strategy. Our research study will guide them."
Indeed, this new report forecasts that future opportunities for business will arise from enforcing existing regulations via improvements in monitoring and compliance, rather than from standards being tightened or new parameters being added. It argues that as Drinking Water regulations have become well established and vary little between countries, there is more scope for improvement in the Wastewater arena, as regulations are relatively new.
Wastewater regulations are generally related to the economic and environmental situation in each country and are usually classified by the wastewater's source (domestic, industrial), by the disposal site, or by a combination of factors. This leads to a huge diversity between countries, where in some cases standards are completely opposite. The classifications relating to the disposal site (the treatment type, the environmental characteristics of the disposal site water body, and subsequent use), for example, are usefully clarified and summarised in this report, as shown here.
Wastewater regulations can contain mandatory or guidance levels for each substance, and the number of substances covered varies greatly from country to country. In practice, however, GWI's study discovers that monitoring plans are restricted to just a few substances. Monitoring is further hampered in that supervisory bodies in some countries may not have the capacity to provide the required inspection procedures. However, fines and withdrawal of discharge permits for non-compliance are in force and being augmented by charges arising from increasing global concern for environmental issues, thus further encouraging the water and wastewater sectors to toe the 'green' line.
Water reuse regulation, by comparison, is still developing. The driver here is not necessarily scarcity of source water, more the economic incentives linked to environmental performance imposed by policy from above, or the consumer base. The actual level of treatment for reused water is determined by its intended application and its level of human contact - whether it is used to irrigate vegetables to be eaten raw, or to keep the golf greens moist, for example.
GWI's new report also studies wastewater discharge and reuse standards for the main industry in each country (identified as the mining and oil & gas sectors in many) finding that some countries have industry-specific standards whilst others have generic industrial discharge regulations. In many cases industries have even set up their own standards, frequently going well beyond the country's own legal requirements.
The European Water Framework Directive and the consequent Urban Waste Water Treatment Directive impose some of the most stringent regulations in the world and these, along with the US' National Primary Drinking Water Regulations, are often used as the standard by other countries. But they are highly ambitious and some EU countries are failing to comply as fast as others. But it is in those countries still struggling to meet these high regulatory standards – France, Spain and Italy are identified in this report - that lie the best investment and business opportunities.
Global Water and Wastewater Quality Regulations 2012, the first complete roadmap to the regulatory frameworks and standards worldwide, provides exhaustive data on more than 300 regulated substances for drinking water and wastewater. It will be pithy reading for water technology companies, monitoring equipment providers, policy makers and water utilities, and contractors and investors. Available in printed format (including CD ROM database) and online, from Global Water Intelligence.
Contact: Ruth Newcombe (rn[a]globalwaterintel.com) for further details.
*Global Water Intelligence (GWI) researches and publishes business data and information about the water markets worldwide. Head-quartered in Oxford, UK it also has offices in Singapore and USA (Austin, Texas) and has researchers and office staff in many other countries.
It publishes three subscription titles and a free weekly GWI Briefing email and around six individual reports per year on particular water sectors/geographic regions. It also organises two major financial conferences for the water industry each year: the American Water Summit in Autumn (Atlanta 2011) and the Global Water Summit in Europe in Spring (Rome 2012).
The Jam Factory, 27 Park End Street, Oxford OX1 1HU, UK
http://www.globalwaterintel.com
###