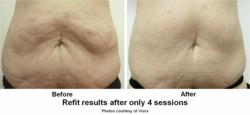 I'm seeing a real difference in the loose skin on my stomach and arms. Already these areas look smoother and more firm.
Jersey City, NJ (PRWEB) October 21, 2011
Viora, a leading medical aesthetics manufacturer, is pleased to announce the continuing success of ReFit, a new concept that provides a solution for excess skin remaining after extreme weight loss. Utilizing Reaction™, a premier radiofrequency (RF) device for aesthetic treatments, ReFit answers the needs of those who have had rapid weight loss, whether via diet, exercise, surgical or medical intervention or childbirth.
When weight is gained, skin expands and re-modulates to accommodate the excess fat underneath. After rapid weight loss, the skin remains enlarged leading to redundant skin. With the use of Reaction™, ReFit treats this redundant skin by restoring collagen flexibility thereby improving the skin's firmness and elasticity. To see results, visit Viora's ReFit page.
"ReFit is providing a much-desired solution for those who have rapidly shed unwanted pounds and now have this redundant skin to deal with." said Eliran Almog, CEO of Viora Inc. "Using Reaction's state-of-the-art technology, aesthetic practitioners can successfully treat patients after extreme weight loss."
E.G., a finalist on a local version of an internationally syndicated popular weight loss reality show, recently underwent several ReFit treatments. After only four sessions, she has already seen results and is excited as to how ReFit will change her life. "I'm seeing a real difference in the loose skin on my stomach and arms. Already these areas look smoother and more firm," she said, "and I can't wait to see the final results in a few more weeks!"
About Reaction™
Viora's Reaction™ offers non-invasive body contouring treatments, featuring the new-age CORE™ (Channeling Optimized RF Energy) technology. Only CORE™ delivers three distinct RF treatment modes and a multi-channel mode that incorporates all frequencies, delivering exceptional treatment accuracy and results. Reaction™ is endorsed by leading physicians and dermatologists worldwide.
About Viora
Viora is a market-leading manufacturer and technology provider of microdermabrasion, electro-mesotherapy, light-based and advanced radiofrequency systems for the global aesthetic and medical markets. All of the products are developed by a team of veteran engineers in the industry as well as medical experts including physicians, surgeons, dermatologists, medical researchers and independent clinical directors. For more information, visit http://www.vioramed.com.
###