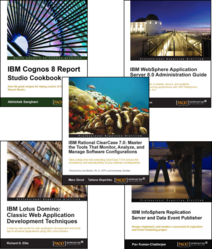 Almost 20 titles (and growing) for less than $100 per year
UK (PRWEB) October 17, 2011
Birmingham: Packt Publishing, one of the world's foremost publishers of IBM books and ebooks announces the release of its IBM Book Library service. For less than $100 per year, the library offers Packt's current catalogue - including popular books such as: IBM WebSphere Application Server 8.0 Administration Guide, IBM Lotus Quickr 8.5 for Domino Administration, IBM Cognos 8 Report Studio Cookbook, and IBM Lotus Notes 8.5 User Guide - as well as all to-be-published future titles. The library is available now.
PacktLib is Packt Publishing's cloud-based book library service. Subscribers can access every IBM book Packt has published, and will continue to publish, over the 12-month subscription. PacktLib can be accessed from any browser connected to the Internet. Future titles already announced include: IBM Sametime 8.5.2 Administration Guide, and IBM DB2 9.7 Advanced Administration Cookbook.
There are almost 20 books in the IBM library already. They include:

IBM Rational ClearCase 7.0: Master the Tools That Monitor, Analyze, and Manage Software Configurations
Application Development for IBM WebSphere Process Server 7 and Enterprise Service Bus 7
IBM Cognos 8 Planning
WS-BPEL 2.0 for SOA Composite Applications with IBM WebSphere 7
IBM WebSphere Application Server v7.0 Security
IBM WebSphere eXtreme Scale 6
and more.
Packt is committed to covering all the informational needs of IT Professionals across the IBM product family. Visit Packt's website to view all IBM eBooks and books. Packt Publishing is also constantly on the lookout for new publishing opportunities with existing and new authors. The company offers industry leading royalties and a fully supportive hands-on editorial process.
About Packt Enterprise.
Packt Publishing, under the Packt Enterprise imprint, has developed and published many books and ebooks (both mainstream and unusual) across the IBM product range, underlining its position as one of the leading providers of IBM training and information. Packt Enterprise is a leading publisher of IBM, SAP, Oracle and Microsoft books for IT professionals and end users alike.
# # #