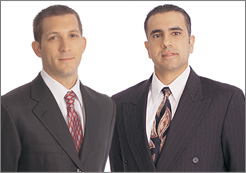 The new website offers users a comprehensive look into bankruptcy and how the Wadhwani and Shanfeld team can help.
Los Angeles, CA (PRWEB) October 18, 2011
The new website offers users a comprehensive look into bankruptcy and how the Wadhwani and Shanfeld team can help. It is a treasure trove of information about bankruptcy, debt settlement, foreclosure, and estate planning. Users can read blog posts on the benefits of bankruptcy and debt settlement, watch videos of Greg Shanfeld teaching about bankruptcy, and read numerous testimonials of satisfied clients giving praise for their work finding a fair compromise for a once hopeless situation. It's not easy finding a website this comprehensive for a Bankruptcy Attorney Los Angeles. Plus, the simple yet appealing aesthetics make navigating the site incredibly easy. Potential clients can find relief on the front page where they can get a free evaluation of their case.
With 30 years of experience, Wadhwani and Shanfeld has filed 10,000 bankruptcy cases and successfully satisfied over 15,000 clients. Their new website reflects their personal dedication to each and every client, showing people exactly what they are up against. Dozens of clients stuck in crisis praise Wadhwani and Shanfeld for their personal engagement with their cases.
J.J. from Sylmar, CA says, "Wadhwani & Shanfeld made the entire process very straightforward and simple. They did not require me to fill out tons of paperwork. My attorney, Raj Wadhwani, was very easy to get a hold of both by phone and email. I would recommend anyone looking for a personal and professional service to use the Wadhwani & Shanfeld". For those like J.J. that are located outside the Los Angeles area and looking for a Bankruptcy Attorney, the new website features specific pages for Offices in your location. For the Long Beach location, see Bankruptcy Attorneys Long Beach. For Sherman Oaks, see Bankruptcy Attorneys Sherman Oaks. For Ontario, see Bankruptcy Attorneys Ontario. For Lancaster, see Bankruptcy Attorneys Lancaster.
Also, these highly qualified attorneys give clients an alternative option to paying fees. According to the website, "We do not bill you hourly like many attorneys will, but rather we quote you a single flat fee based on the complexity of your case. Therefore, you know ahead of time how much your case will cost so that there are no unpleasant surprises."
The new website features a video gallery with informative Q&A videos on virtually every personal Bankruptcy & Debt Settlement topic. The videos include Bankruptcy, Debt Settlement, Credit Card Settlement, 2nd Mortgage Lien Strip, Wills, Living Trusts, Foreclosures, Chapter 7 Bankruptcy, Chapter 13 Bankruptcy and more.
We now have a section featuring real client testimonials. The combination of overwhelmingly positive testimonials and the unseen range of information about bankruptcy law provided makes Wadhwani & Shanfeld Bankruptcy Attorneys the optimal choice for anyone with financial burden to get reliable and professional help. If you are looking for a Bankruptcy Attorney Los Angeles, don't hesitate to visit our new website online today.
###