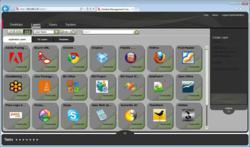 Philadelphia, PA (PRWEB) October 17, 2011
Virtual Desktop Infrastructure (VDI) promises many advantages for minimizing hardware refresh, enhancing security, and increasing user mobility. But without the right management software, creating, patching, and personalizing virtual desktops, delivering applications, and optimizing storage can be a challenge for any IT organization. This week at the 2011 EDUCAUSE Annual Conference Oct. 18-21 in Philadelphia, Unidesk®, the fastest growing provider of desktop management software for VDI, showcases its solution for simplifying VMware View™ and Citrix® XenDesktop® implementations in higher education. Unidesk will exhibit in booth 1731/1733 of solution partner Cambridge Computer. Additionally, Unidesk will present a theater session on how to expand VDI use cases and replace more PCs in booth 540 of technology alliance partner Wyse, and participate in the latest Dell Virtual Labs announcement.
Unidesk desktop layering technology is playing a key role in the VDI initiatives at many colleges and universities, including Durham Technical Community College, Menlo College, Southwestern Michigan College, University of Connecticut, University of Maryland, University of Wisconsin Oshkosh, and William Woods University. With Unidesk, college IT administrators can provision new desktops in just minutes and quickly deliver any application as a Unidesk "layer." Labs can be easily updated, then accessed by students and faculty from thin clients, PCs, Macs, and mobile devices anywhere in the world. For faculty and staff -- typically left out of many VDI implementations because of the high degree of customization these use cases require -- Unidesk gives each user a personalization layer that contains all profile modifications, application and OS settings, user-installed applications, and documents. Even though Unidesk "persistent" desktops preserve all user customizations, they offer all of the storage capacity savings and single image management benefits of non-persistent, stateless desktops.
EDUCAUSE attendees are encouraged to attend "Virtual Desktops in Higher Ed: Win, Lose, or Draw," on Wed., Oct. 19 at 10:30 a.m., moderated by Steve Kaplan, Vice President Data Center Virtualization Practice at Unidesk solution partner INX. Attendees will learn how higher education IT leaders are using VDI to maintain and manage the constantly changing mix of operating systems, applications, patches and repairs required in an academic desktop environment. Featuring Unidesk customer and Menlo College CIO Raechelle Clemmons, University of Oregon Lundquist School of Business Director of Information Systems and Instructional Technology Shandon Bates, and Montgomery College Vice President for Instructional and Information Technology Michael Russell, the panel will address key VDI topics, including application virtualization, desktop personalization, storage capacity and IOPS considerations, infrastructure/ease of integration, and overall costs.
Attendees are also encouraged to visit Wyse booth 540 on Wed., Oct 19 at 3:00 p.m. and Thurs., Oct. 20 at 10:00 a.m. for the theater session on how Unidesk and Wyse expand the number of academic users who can benefit from virtual desktops.
For more information on how Unidesk is helping colleges and universities accelerate desktop virtualization, watch one of the free webinar replays at http://www.unidesk.com/customers/webinars.
Promotion for Education Customers
Unidesk recently extended its promotional program for VMware View in education through Dec. 15, 2011. VMware View Premier academic customers who purchase 250 or more Unidesk licenses pay only $45 per managed desktop for Unidesk. Customers who purchase 100-249 Unidesk licenses pay only $60 per managed desktop. For more information, visit: http://www.unidesk.com/landing/vmware-view-unidesk-education.
About Unidesk
Unidesk® Corporation (http://www.unidesk.com) enables customers to centralize more desktops on data center servers and realize the full potential of Virtual Desktop Infrastructure (VDI). Unidesk's patent-pending desktop layering technology works with VDI access solutions such as VMware View™ and Citrix® XenDesktop® to sustain all desktop customizations for end users, while enabling IT to provision and patch all desktops from a single set of shared operating system and application images. By creating uniquely personal, storage-efficient, and easy-to-manage persistent desktops on VMware infrastructure that can satisfy almost any use case, Unidesk desktop management software for VDI reduces desktop operations costs up to 30%, cuts data center storage costs for VDI up to 70%, and fosters a more productive, agile workforce. Unidesk Corp. is a privately-held company with headquarters in Marlborough, Mass, USA
# # #
VMware and VMware vSphere are registered trademarks and/or trademarks of VMware, Inc. in the United States and/or other jurisdictions. Unidesk® is a registered trademark of Unidesk Corporation. All other trademarks and registered trademarks are property of their respective owners.